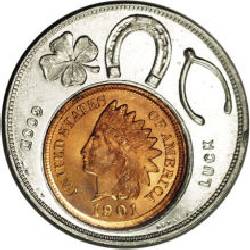 Obverse reads: - GOOD LUCK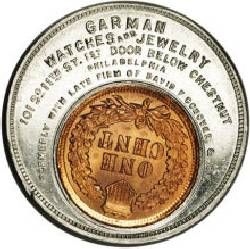 Reverse reads: GARMAN / WATCHES AND JEWELRY / 101 So. 11TH ST. 1ST DOOR BELOW CHESTNUT / PHILADELPHIA / FORMERLY WITH THE LATE FIRM OF DAVID V. SCHOVIL & CO.
Note this newsletter was sent 10/17/21 but several readers experienced difficulty receiving it, so here it is online
Greetings Fellow Encased Collectors:
Several of you responded with comments and a few with typo's from the Other Victory Page. Thank you! I can be a lousy proofreader. And I have fat fingers. I appreciate the feedback. I also got a comment about the size of several encasements. My micrometer needed calibration. So I benefitted from this if no one else died.
Stork Club Encased
I recently bought a Stork Club encased from 1940 32MM cent. The obverse is the standard "GOOD LUCK / STORK CLUB". The reverse has only symbols.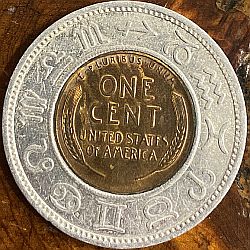 Any ideas on what they represent? There are none of the usual suspects. No horseshoe, no rabbits foot, no four leaf clover, and not even a swastikas.
Several people wrote to tell me that these are the Zodiac symbols. Huh! I am familiar with the images for the zodiac, but not the symbols. RL sent me the image below.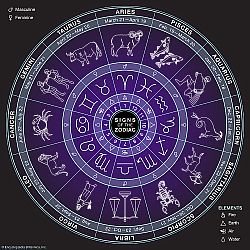 Zodiac From Encyclopedia Britannica
Articles?
Several people offered to write articles for this newsletter or the website. Please feel free to do so!
eBay
I was surprised when the "KEWAUNEE LINE ALUMINUM GOOD LUCK COINS SALESMAN KEYCHAIN DISPLAY" came up for bid. I don't want to know who beat me out of it, but in retrospect I am ok with not buying it. If I was still exhibiting at coin shows then I would have bid big to have it. Now it would have sat on my shelf, so I am ok with not winning the pieces.
It seems to me that the prices on eBay continue to grow, especially for the Irradiated Dimes. I realize that recently one sold for I believe over $80. I didn't look closely at it until the final bid. At that time I realized that it had a different legend around the coin. Sorry I didn't bid on it now. I didn't get any feedback from you folks on the prices. I don't know if that means you aren't buying? or you just agreed?
General
I am in the process of updating the spreadsheet I use to keep an inventory of my encased. At the same time I am putting the into archival 2x2 pages. I had them in vinyl pages, but I am afraid that the copper will go bad, so mylar pages. I store my notebooks flat so that I do not have problems with the pages bending. I prefer this method as I can quickly see both sides of the piece. My notebooks are separated into areas of collection. Chicago, Illinois, Victory, Stork Club and so on.
Another New Acquisition
I bought this interesting pin-back button with a 1953 D cent.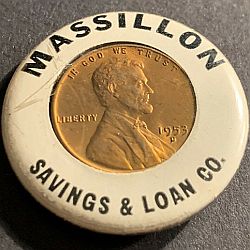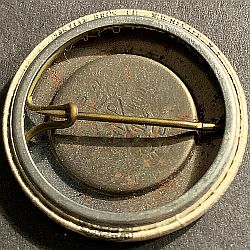 I will put an article or at least add the piece to the site tomorrow. One interesting thing is the back has a logo for Metal Workers of America stamped in it along with B.B.CO. Rochester, NY - (Bastian Bros. Co.) there is also the Bastian Brothers, Co.Rochester, NY on the paper rim. Thisis the only pin-back encased that I have seen. It is from 1953 so not new and not antique, but cool!
I would like to get some articles or short blurbs to add to this newsletter. I know that several of you are capable. I am looking for ways to keep this website going even after I am gone or the desire to maintain the site is gone. We lost a lot when ECI disappeared. I don't want to lose it again.
I am sure that after I send this I will think of something else to write about.
Bruce