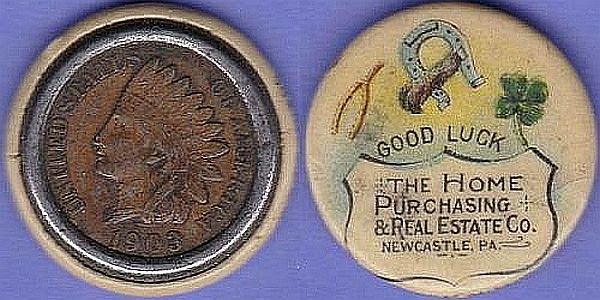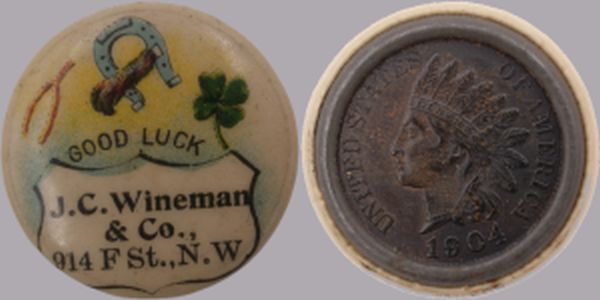 Above - Baltimore Badge & Novelty Company's celluloid buttons carried a standard design featuring good luck symbols: wishbone, rabbits foot, horseshoe and four-leaf clover. The pieces shown here advertise The Home Purchasing & Real Estate Co. Newcastle, PA. and J.C. Wineman & Co., a tailor whose business was at 914 F. St., N.W., in Washington , D.C. (The Home Purchasing was not shown in original article -Editor)
Cashing in on the craze for souvenir lucky coins,
Baltimore Badge & Novelty Company adapted
its celluloid buttons to hold Indian Head cents.
by Rich Bottles Jr. A N A 1 2 0 5 1 5 6, first published in the Numismatist October 2007
ENCASED CENTS seemed to have been popularized as affordable souvenirs of the Pan-American Exposition held in Buffalo, New York, in 1901. Merchants likely realized that the aluminum encased lucky cents offered at the fair could be used as an effective advertising medium. Many varieties are known containing Indian Head cents struck that year. Considering the number of Pan-American encased coins that flood the market today, it seems every exposition attendee must have carried one of these lucky pocket pieces. Die-sinkers and novelty manufacturers attempted to meet the immediate demand by offering encasements in numerous styles and sizes. Some were round with coins set off-center; others were shaped like miniature frying pans, horseshoes, bears, bells, goblets and the ever-popular chamber pot.
The Baltimore Badge & Novelty Company took a practical approach to manufacturing encased cents. In 1901 the firm applied for a patent for replacing the pinback mechanism used in its regular celluloid buttons with a 1-cent coin. The concept was very basic: an Indian Head cent was placed in the back of a standard, 22 to 23mm celluloid button, then the button's metal ring was crimped over the edge of the coin to secure it in place.
The company used a standard design that featured good luck symbols—wishbone, rabbit's foot, horseshoe and four-leaf clover—along the top, the words GOOD LUCK at the center, and a cream, gold, red or white shield at the bottom. The merchant's name, address and other information were printed in black, red, blue or gold inside the shield. The manufacturer's mark is visible along the edge of many button-encased cents, although it sometimes is partially obliterated by the crimping process. Some are marked B.B. & N. CO. BALTO, MD., and others simply B B N CO.
Only 22 varieties of these celluloid button-encased cents have been reported. The merchants and products advertised on these miniature storecards are diverse and present an interesting look at small business in the eastern United States at the turn of the 20th century.
Western Pennsylvania Issuers
The majority of the issuers of these novelty good luck buttons seem to have been based in western Pennsylvania. In New Castle, Lawrence County, for example, real-estate investor J. Park Hays used the tokens to promote two real-estate businesses with which he was associated. Both issues hold 1903 cents. The token advertising his firm at 77 Pittsburgh Street reads: J.P. HAYS & C.O/REALESTATE./LOANS,/INSURANCE./
NEWCASTLE, PA. Hays also was treasurer of a business at 9 Dean Block, whose token boosted THE HOME/PURCHASING/& REAL ESTATECO./NEWCASTLE, PA.
In nearby Mercer County, a descendant of an original area settler issued tokens. Matthew Irwin Montgomery, great-grandson of an early settler, issued a 1902 cent encased in a celluloid button that advertised M.I./MONTGOMERY./ FLOUR, FEED,/GROVE CITY, PA.
Another longtime, family-owned business associated with an encased cent was started by Robert Martin, located On the Diamond in Ligonier. (Today it is run by his granddaughter as Martin's Specialty Shop.) Robert Martin's advertisement has a 1902 cent, with an encasement reading MARTIN'S SHOES/WEAR WELL/ LIGONIER, PA.
Another button-encased cent from a small Pennsylvania town advertises Null's Shoe Store in West Newton. H.W. Null & Co. was a prominent West Newton business at the turn of the century, but it's not certain whether it operated the shoe store. The token contains a 1903 cent and is imprinted NULL'S/SHOES/FIT & WEAR/ WEST NEWTON, PA.
Closer to the Pittsburgh area, a maverick (with no town identification) button can be traced to Tarentum on the outskirts of Allegheny County. The token holds a 1902 cent and advertises G.W. GOLDINGER & CO./HARDWARE. The piece was discovered at a Tarentum flea market, and a quick check of a 1908 business directory confirmed the issuer's location: George W. Goldinger owned a Hardware & Cutlery business at 807 Ross Street.
The towns of Allegheny City and Lawrenceville became part of the City of Pittsburgh in the early 20th century. In Lawrenceville, John J. McFadden and John M. Gannon formed a plumbing partnership at 4308 Butler Street. Their encased 1903 cent was housed in a button imprinted MCFADDEN & GANNON/SANITARY/ PLUMBING./4308 BUTLER ST.
Allegheny City merchants were in no hurry to change their addresses, as far as advertising was concerned. Issuing encased 1902-dated Indian Head cents in Allegheny were hatters George J. Junker and Charles E. Klages, 519 Federal Street; produce merchant John R. Martin, 201202 Allegheny Market; and Henry Braun, 500–501 Federal Street. The haberdashery's token reads JUNKER & KLAGES,/ALLEGHENY, PA. Martin's token included his business location: J.R. MARTIN,/STAND NO. 200/ALLEGHENY MARKET. Braun, who sold pianos, phonographs and music boxes, did likewise, issuing a piece that read BRAUN/500 FED. ST.,/2ND FLOOR/ ALLEGHENY, PA.
Four more 1902-dated, button-encased coins were issued across the bridge in Pittsburgh by confectioner John Dimling, stationer Albert W. McCloy and entrepreneur extraordinaire Lewis J. Seleznick. The inscription on John Dimling's button was appropriately short and sweet: EAT/DIMLING'S/CANDIES. When it was issued, Dimling operated his shop at 409 Market Street, but he later moved the business to popular locations along Liberty and Fifth avenues. Dimling's Candy operated well into the 1970s.
Albert McCloy's stationery was located at 636 Liberty Avenue, even though the token states the address as Liberty Street. The McCloy pocket piece states A.,W. MCCLOY & CO.,/636 LIBERTY ST./STATIONERS. The original Pittsburg Jewelry Co. token had a printing error, and the Seleznick family reordered. The error didn't involve dropping the h in Pittsburgh, as you might suspect, because that spelling was correct at the time.
Seleznick Productions
The Seleznick family perhaps is the most interesting issuer of button-encased cents. Early business directories from around 1902 list Lewis J. Seleznick as president and David Seleznick as manager of the Pittsburg Jewelry Co. The original 1902 Pittsburg Jewelry Co. issue gives a nonexistent street address: PITTSBURG/JEWELRY CO./443 SMITHVILLE ST. Another token carries the correct address: PITTSBURG JEWELRY CO./ 443 SMITHFIELD ST.,/PITTSBURG, PA.
At the time, the Seleznicks also had business interests in New York City – the Knickerbocker Jewelry Co. at 278 Sixth Avenue. A 1906 directory shows Lewis J. Seleznick as president and Arthur M. Hirshfield as secretary. Seleznick's New York City token also sports a 1902 cent. It reads: KNICKERBOCKER/JEWELRY CO.,/6TH AVE. & 16TH ST.,/NEW YORK. This shop was replaced by the Hollywood Diner, ironic considering the career path Lewis J. Seleznick took after he left the jewelry business.
A biographical sketch on IMDb (Internet Movie Database) reports that Selznick (he later dropped the second e in his name) was born Lewis Zeleznik in Kiev, Ukraine in the Russian Empire, into a poor Jewish family of eighteen. Selznick migrated to London at the age of twelve, and then to the United States, eventually winding up as a small-time jeweler in Pittsburgh, Pennsylvania. Apparently, in the early 1900s, a merchant was considered small-time even if he was president of jewelry stores in Pittsburgh and New York.
Coincidentally, around this time, John P. Harris opened a nickelodeon offering 20-minute, one-reel films near shops owned by Selznick and another Pittsburgh merchant, Harry Warner. Selznick and Warner were inspired by this new form of entertainment and ended up establishing their own major motion picture studios.
According to a biography on www.antiqnet.com, Lewis J. Selznick helped form World Film Corporation in 1915. Arthur Spiegal was the company president, and Lewis J. Selznick, a former small-time jeweler, was vice president and general manager. Their first major move was the acquisition of Clara Kimball Young, Vitagraph star with sensational box office power. World Pictures was headquartered in Ft. Lee, New Jersey, considered America's first movie capital.
In the New York City area, some stars of stage and screen may have stayed in the Bay View Hotel on Long Island, which is represented by a button-encased 1902 cent. Henry and Lena Daufkirch were the proprietors of the white, two-story resort hotel. The token is imprinted DAUFKIRCH'S/BAY VIEW HOTEL,/NORTH BEACH,/L. I.
Another Pennsylvania Issuer
William M. Siers is the only known Pennsylvania issuer outside the western part of the state. According to Altoona business directories, Siers operated a cigar store at 1714 13th Street. He was manufacturing cigars at this central Pennsylvania location as early as 1895. His button encases a 1902 cent and advertises SIERS CIGAR/ MFG. CO.,/ALTOONA, PA.
Famous and Not-So-Famous Drinks of New Orleans
Most people have heard of the gin fizz, a cocktail created and served by Henry C. Ramos in the Stag Saloon at 712-714 Gravier Street in New Orleans. The creamy, gin-based concoction, which was made with orange flower water and egg whites, had to be hand-shaken at least five minutes to produce a meringue-like consistency. At the peak of the drink's popularity in 1915, Ramos reportedly had to hire 35 boys to do nothing but shake cocktails during Mardi Gras.
The drink must have been hugely popular in 1902, the date on an encased cent, because the celluloid button features only Ramos' name and GIN FIZZ/GIN PHIZZ. Ramos may have run out of his initial order of encased cents, because five years later he issued another. The 1907-dated encased cent contains more information about his luscious libation: DRINK/RAMOS GIN FIZZ/GIN PHIZZ/MADE IN NEW ORLEANS
Ramos kept his gin fizz recipe a secret until Prohibition drove the drinking culture underground. After Prohibition was repealed in 1933, he sold the recipe as well as the rights to its name to New Orleans' Roosevelt Hotel. It still serves up a drink by the same name although i now is known as the Sazerac Bar.
Another button-encased cent can be traced to New Orleans, but doesn't appear to be connected to the famous Henry Ramos. The token holds a 1902 Indian Head cent and promotes IN/ELECTRA/WATER. Not much is known about this electrically charged liquid. Business directories place The Electra Water Co., Ltd. at 709-711 Camp Street, today the site of an art gallery.
More Mavericks
Tailors are never in short supply of buttons. John C. Wineman made sure he had plenty on hand, although not all were meant to be sewn on clothing. Wineman issued a 1904 cent encased in a button with the inscription: J.C. WINEMAN/ & CO.,/914 F ST. N.W. Business directories confirmed this F Street merchant in our nation's capital. Today's phone directories show a nightclub at this address.
One maverick that continues to challenge reads: U.C.S. CO. Could this be another Pennsylvania issue, considering most known Baltimore Badge & Novelty Co. pieces are from that state? At the turn of the 20th century, there no doubt were plenty of companies in the United States with these initials. Perhaps the block letters on this token represented a company logo that can be found in a newspaper advertisement or on a letterhead. Or perhaps this was a fourth issue from Selznick for another one of the businesses in which he had an interest.
Considering the limited space available for printing messages on these small tokens, it's not surprising there are so many mavericks. The issuers who included a city name usually had to leave off a description of the business. Perhaps this is why so few varieities of buttonsized tokens were issued, and thus the larger, aluminum-framed encased cents prevailed as a popular advertising medium.
As to current availability, button-encased cents are much scarcer than their aluminum counterparts, probably because they are smaller and thus more easily lost. It also seems it would be easier for idle hands to remove the coins from the buttons than from the aluminum frames, although I'm not likely to test this theory on the few pieces I possess.
I have spent years researching these unusual, early 20th-century storecards. I would appreciate hearing from anyone who has new varieties or further information on the subject. Feel free to contact me by e-mail at captainrich62 @yahoo.com, or drop a letter to Rich Bottles Jr., P.O. Box 8029, Fairmont, WV 26554.
Acknowledgments
I would like to thank the following numismatists for contributing descriptions of tokens for this article: Herman Aqua, Tom Cain Jr., Larry Dziubek, Glyn Farber, Dick Gaetano, Cindy Grellman, Jim Lawniczak, Tim Messerley, Vic Nolan, Bob Slawsky and Dick Watley.
LearnMore...
Crawford, Louis, and Glyn Farber. Louisiana Trade Tokens. Bryantown, MD: Token and Medal Society, 1996.
The above article is from the October 2007 Numismatist a publication of the American Numismatic Association. "Reprinted with the permission of The Numismatist, official publication of the American Numismatic Association (money.org)." The article was written by Rich Bottles and is used with his kind permission. Where possible the original images have been used. Other images are from my collection. The layout of the article has been changes to match the rest of the website. - Editor