Recently I cam across the lot of 59 encased from Houlton High School, in Houlton, Maine on eBay. The holders showed that this lot were from the Cecil Starcher collection. Cecil was the driving force behid Encased Collectors International. When Cecil died May 15, 2018 he had made no provision for the continuation of the website or the ECI community. His daughters were his heirs and they let the domain name expire as they had no interest in encased ccoin or ECI. More information on Cecil can be found Here
I have been looking for information about these encased in particular. The seller who knew Cecil in a peripheral way gave a litte infomation and pointed me toward someone who knew Cecil a bit better. He provided me with the scant information above.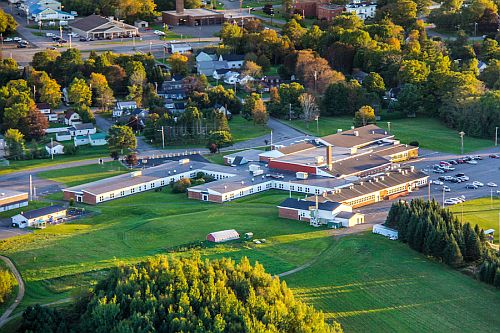 Current day Houlton combined Jr Sr High School
Houlton, ME is very close to the border between Main and New Brunswick, Canada. The best I can ascertain is that Cecil made these for someone from Houlton, ME and kept a set for himself. If you or nayone knows more about these let me know so I can correct this page. I assume that Penny Press Mint made these encased.
This is an interesting group of encased because they contain attribution to the Cecil Starcher collection and arre indicative of his work in making encased coins. Why he had a date run made is open to intrepretation. Tha fact that it begins in 1899 is interesting, but I can find no information that Houlton HS and the date are related. The information I find about the school and town is not very helpful. One thing I am learning is that I need to plan for the future of my website and my collection.