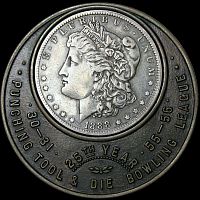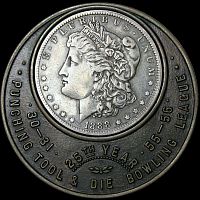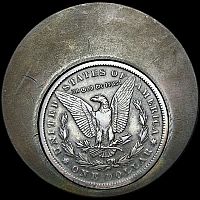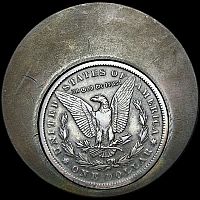 Above is an round offset or off-center 1888 Morgan Dollar. The legend is "PUNCHING TOOL & DIE BOWLING LEAGUE / 25TH YEAR / 30-31 / 55-56" on the obverse. - (Hover for larger image)
There are a wide variety of encased coins. The variety includes but are not limited to: country of origin of coins that are encased, denominations of the coin, material that the encasement is made from, and the shape of encasements. The first known encased coins included round, horseshoe shaped, and chamber pot shaped encasements. Encasements were originally thought to be aluminum, but you can find coins encased in brass, steel, plastic, Lucite, and wood. Currently there is no definitive proof of when the first encased coin was made. Encased stamps were created in 1862 due to the shortage of coins. Where "Encased Stamps" were designed to be used as a substitute for currency, encased coins were an advertising give away or souvenir. On this page I explore some of these varieties.
The images below are currently in no particular order, that will change in time. You can see that encased come in many different shapes as well as subject matter. There are a variety of materials, a variety of denominations and, a variety of shapes.
A Variety of Encased Shapes, Materials, and Denominations
These first four are "traditional" in shape, size, and material. All are encased in aluminum are lucky cents.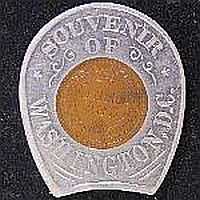 Old Fashioned Horseshoe
1907 "Souvenir of Washington, D.C." - Traditional Horseshoe shape aluminum encasement. (Variety traditional horseshoe)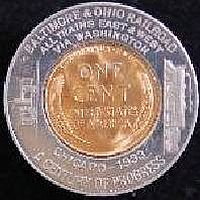 38 MM Round
"Chicago-1933 / A Century of Progress" "Baltimore & Ohio Railroad / All Trains East & West / Via Washington" Traditional round shape encased cent. (Variety traditional round.)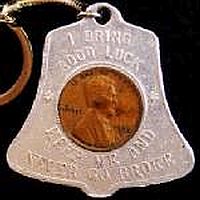 Bell Shaped
Key chain with Bell shaped encased "I Bring Good Luck / Keep Me and Never Go Broke" (Variety key chain using solid woven chain and Bell shape.)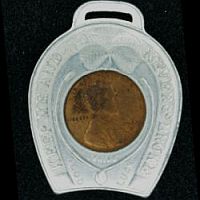 Traditional Watch Fob
1940 S watch fob shape - reverse "Souvenir of Washington, D.C. (Variety traditional watch fob shape, identical to traditional horseshoe except for loop at top.)
With the four below we have plastic encasements, a chamber pot, and a "teddy bear". Still cents, but a different material with the two horseshoes. The chamber pot is a common shape, but MR Bear is not! (See Teddy Bears for additional information.)
Plastic Horseshoe
This is green plastic traditional horseshoe shape with "Keep Me Never Go Broke / I Bring Good Luck" on obverse. (Variety material plastic.)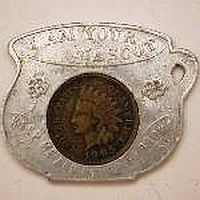 Chamber Pot
1905 Chamber Pot - "I Am Your Mascot / Keep Me and Never Go Broke" Traditional chamber pot shape. (Variety shape)
Teddy Bear
1911 Teddy Bear - "Bear Us In Mind" (Variety shape)
Plastic Key Chain
A different style plastic horseshoe with chain. "Good Luck" "Keep Me and Never Go Broke" (Variety material and shape non-traditional horseshoe. )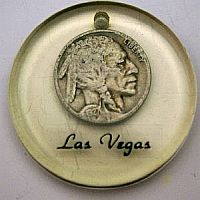 Round Clear Plastic Key Chain
Encase in round (1 13/16th inch diameter 1/4 inch in thickness)clear plastic with a hole for a chain at the top is a 1920 buffalo nickel. In cursive at the bottom "Las Vegas" (Varieties material, shape and coin denomination)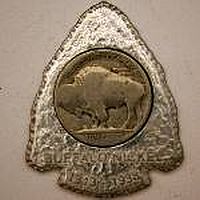 Arrowhead
Encased in an arrowhead shape is a buffalo nickel and made of steel - "Buffalo, N.Y. 1913-1938" at the base of the arrowhead. (Varieties material, shape and coin)
Paper clip
On the face of a large spring type paper clip is a 1917 cent. - "Chicago Tubing & Braiding Co." - "Makes Good Tubing" (Varieties, Shape and material)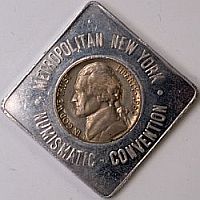 Square
Encased in a steel square is a 1960 Jefferson nickel. "Metropolitan New York Numismatic Convention" - 1 1/4th inch square. (Variety shape, material and coin)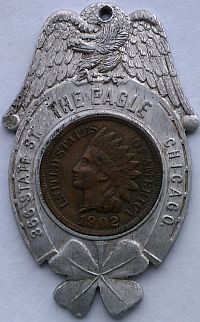 Modified Horseshoe
A horseshoe with added symbols "eagle" at top and a "four leaf clover" at bottom. (Variety shape)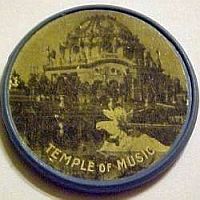 Vulcanite Encasement
Pan Am Expo 1901 Cent encased in hard vulcanite (plastic) with a picture of the "Temple of Music" on this side. (Variety material and sue of stickers for legend)
"Flip" Bottle Cap
A green bottle cap advertising "Flip" a local Chicago beverage. (Variety of material and shape)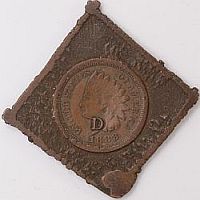 Square Encased
This appears to be handmade. The designs looked to be hand carved. It has an 1888 cent obverse on both sides with a large "D" stamped into the neck of the Indian. I am unable to determine if it has two cents encased or just two "heads" sides of a cent. (Variety of material and use of two coins and potentially hand made?.)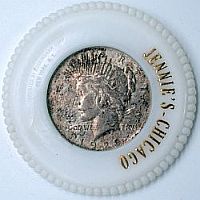 Jennie's Chicago
A 2.75 inch plastic ring encases this advertising piece. The reverse advertises "Cutty Sark Scotch Whiskey" (Variety with, size, material and coin.)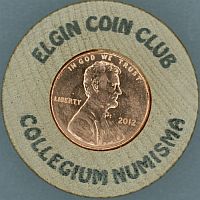 Wooden Nickel?
A wooden nickel encases tow 2012 cents. Two coins are needed due to the thickness of the wooden nickel. (Variety in encasement material and two coins used.)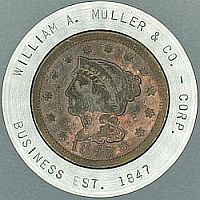 Stainless Steel Encasement
A stainless steel engraved ring surrounds an 1847 large cent advertising "William A. Muller & Co. - Corp. Business Est. 1847" (Variety of size, coin and encasement material.)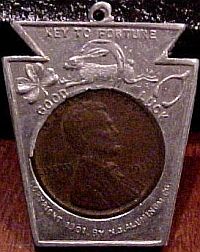 Keystone Shape
Keystone shape appears to be brass - "Key to Fortune" "Good Luck" "Copyright 1901 BY N.J. Aluminum Co." (Variety in shape and material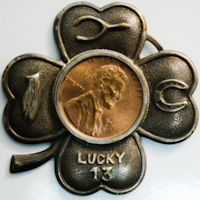 Four Leaf Clover
The shape of the encasement is a four leaf clover. Note the loop built in at the top. Symbols for rabbit's foot, wishbone, horseshoe and, "Lucky 13" surround a 1946 cent. (Variety of shape and material)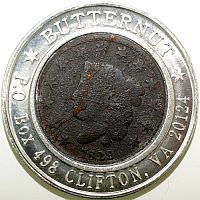 Encased 1829 Large Cent
The encasement is 1.75 inches in diameter "Butternut P.O. Box 498 Clifton, VA. 20124" reverse "United States Large Cent 1793 - 1857" (Variety in size and coin.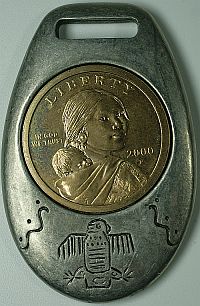 Sacagewa Fob
This fob shaped weighs 1.4 oz (41g) and is made of steel. The obverse of the coin shows, the reverse does not. It has pictograph's on both sides and "US Mint" stamped on the reverse. (Variety of coin, shape and material.)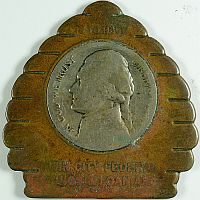 Beehive Jefferson
A "Beehive" shape - 1.5 inches at widest and tallest points. Made of Brass. Obverse "Twin Cities Savings and Loan Assoc." Mine is well worn and dateless.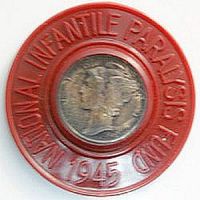 Encased Mercury Dime
This is a plastic (maroon) 1.5 inches diameter encased "Mercury" dime. Obverse "National Infantile Paralysis Fund 1945". Reverse has likeness of Franklin D. Roosevelt with his signature and 1882 - 1945 (Varieties material and coin)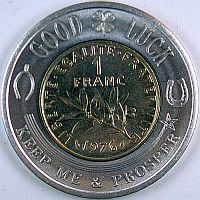 Encased 1976 French Franc
One Franc (Francaise) in traditional round 1.5 inch size. Obverse "South Carolina Tokens / Tony Chibbaro / P.O. Box 420, Prosperity, SC 29127. Reverse "Keep Me &Prosper /Good Luck" (Variety coin)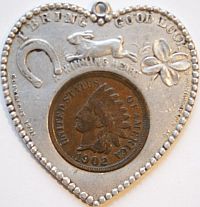 Pan American Expo Heart
1901 Pan American Exposition heart shaped encased. Obverse "I Bring Good Luck" Images of horseshoe, rabbit and four leaf clover. Under the running rabbit "A Winning Heart". Reverse "Higgins Carpets Etc / 3rd Ave Cor 159th St NY" scroll work around the cent and at top. Hole for chain. (Variety shape)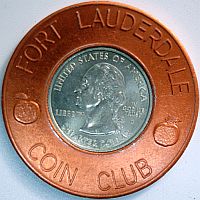 Florida State Quarter
An encased Florida State quarter in an anodized (orange) aluminum traditional ring 1.75 inch in diameter vs normal 1.5 (38mm). Obverse "Fort Lauderdale Coin Club". Reverse "50 Years Numismatic Fellowship 1955-2005". (Varieties size and color of aluminum.)
Varieties By Denomination
Below are a number of different encased coins demonstrating the wide variety of coins found in encasements.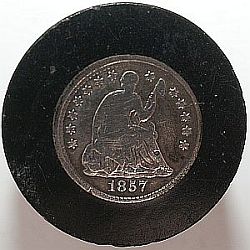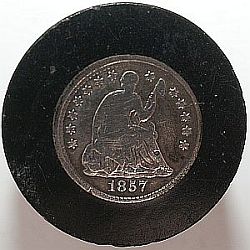 1857 dime encased in black vulcanite 5/8" thickness 1" diameter - (Hover for larger image)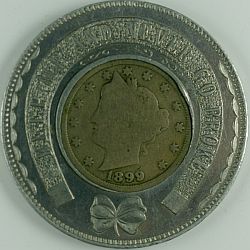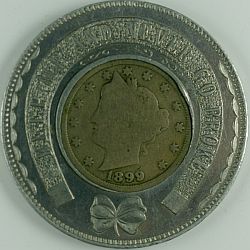 1899 nickel "Keep Me and Never Go Broke" (obv) - "Diamond Paints Stores Home of Stag Trousers / Union Made" (rev) - (Hover for larger image)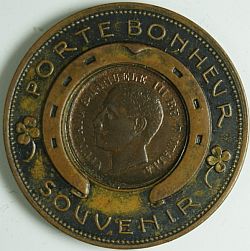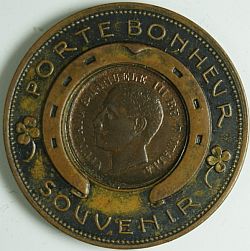 1904 R One Centesemo - Obverse - "Portes Bonheur Souvenir" - Reverse "M. Jesurum & Cie. / Venise / Dentiles Broderies Etoffes" - Encasement appears to be brass. - (Hover for larger image)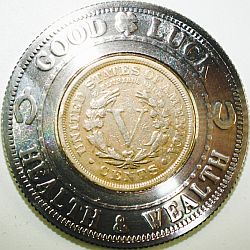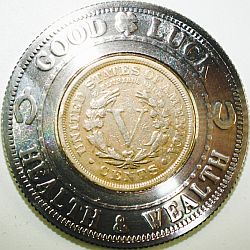 1912 "V" nickel reverse "Good Luck / Health & Wealth" - Obverse "Never Ride Faster Than Your Guardian Angel Can Fly" - (Hover for larger image)
More denominations can be seen on the page denomination.html.