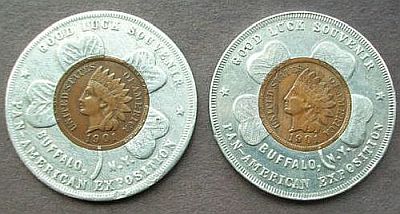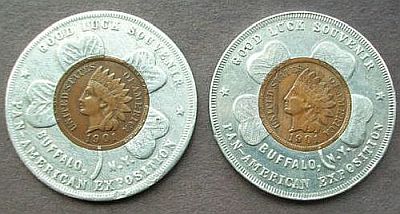 Note the left and right facing stems.
(Hover for larger image)
What Are Encased Coins?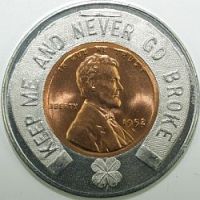 A traditional Encased Cent with the motto: KEEP ME AND NEVER GO BROKE inside of a horseshoe.
What's New on Encased Coins Dot Info?
Here are the latest new pages or updated pages.
An Encased Coin is a token, often including a cent, that has been inserted into an aluminum blank or an encasement of another composition. If inserted into an aluminum ring or washer, the coin is placed into a press that squeezes the encasement tight to the coin and presses advertisements or other design elements into the metal. If the encasement is not metal the coin is inserted by hand as the piece is made. Frequently one side will have a slogan such as Keep Me and Have Good Luck. Hence these cents were called lucky pennies. These were sold to businesses as advertising pieces, and as souvenir pieces. They could be customized with a wide variety of information, including Name, Address, Phone Number and advertising slogans. This defines what to me is a "traditional" encased coin. On these pages, I explore what I consider to be encased coins. They include coins encased in an acrylic resin, injection molded plastic, paper encasements, and other non-traditional encasements
Encased coins are classified as a token. Tokens include, but are not limited to love tokens, encased tokens, elongated cents, and trade or advertising tokens. Encased coins are recognized by TAMS (Token and Medal Society) as trade tokens as they have the implied value of one cent.
The encasement usually has good luck symbols such as the horseshoe, wishbone, rabbit's foot, four-leaf clover and many contain them all. The first encased coins showed up around the turn of the century (1900) at the Pan-American Exposition Buffalo, N.Y. Encased coins containing coins dated before 1901 are known, but appear to have been created after 1901 or contain a coin that replaced the original coin. After 1901 encased coins can be found advertising restaurants, expositions, world fairs, and just about any business you can name.
Why Collect Encased
Why collect them. There are many good reasons to collect encased coins. First is that they are inexpensive to collect compared to any silver or gold coin. Most can be purchased for between $5.00 and $10.00. The varieties of encased available to collect are very large. Encased varieties can range from the coin itself, cents to dollar coins, the material of the encasement from aluminum to steel and beyond, and the varieties of the issuer, which range from coin clubs, restaurants, car dealers to banks and insurance companies.
Collecting encased coins can be a fun and rewarding hobby. What are encased coins? Traditionally they are a cent that is encased in an aluminum ring or washer.  The "motto or legend" is added through the striking of the washer with the coin in its center. As the hammer die strikes the anvil die the coin is clamped into the washer by the movement of the metal. They have been referred to as lucky cents or encased cents. They are a token that has the coin encased by another material. The first sold as souvenirs at the 1901 Pan American Exposition had an aluminum ring circling the cent. The obverse of the most common encased cent from 1901 Pan AM EXPO has a four-leaf clover as the main design. Also known are ones with a bison, a dustpan and, a pan-shaped stick pin.  Most were sold to businesses to give away as an advertisement. Many were made as souvenirs. Car dealers, barbershops, and restaurants to name a few, frequently bought encased cents as a giveaway. The thought was that the encased cent would be kept as a pocket piece and the business name would then be "top of the mind" due to the piece being in your pocket.
Encased coins are tokens. Tokens are collected by state and city, by business type, and by date. With encased, coins one interesting set would be a date set from 1901 to today of round encasements. Add in mint mark to the date set and it would be an interesting collection. I have heard of collections of "irradiated dimes" done by date. The irradiated dime was made at Oak Ridge, TN as a souvenir. You could give them your dime and have it irradiated and then encased and returned. Since the coins came from people's pockets the dates are varied. There are collections of encased cents from parks and monuments, from barbershops and restaurants. That is what is fun and challenging about collecting encased coins. You may have the finest set of encased coins referring to banks or restaurants.
A Variety of Encased
Many years ago I showed an Exhibit at Central States called: "Encased Coins A Variety of Varieties". I had seven display cases full of encased coins. There never seemed to be enough room to display all the different varieties. This website attempts to begin to show the many varieties of encased coins. This website is constantly evolving. New pages are added. Old pages are updated.
Encased coins are generally recognized as coins that are encased in a metallic ring. However, a wider definition might encompass any coin encased in another substance as long as the coin is visible. So what else qualifies? How about coins encased in plastic (Lucite) as a paperweight? Or coins encased in pocket mirrors as advertising pieces. Key chains with plastic coated coins, belt buckles, money clips, jewelry, clocks, and other encasements. Slabbed coins (graded by a grading service) are NOT encased coins as the encasement of the coin is to protect it from environmental factors and to assure the buyer and the seller that the coin is certified as to grade, condition, and authenticity. The purist definition would be a coin encased in an aluminum ring or washer with good luck symbols and sayings on the face and advertising or other information on the reverse.
The wide variety of shapes are also known for encased cents (coins). The best known are the round encasements which vary in size from 32 MM to as large as 50 MM. Then there are bell shaped encasements, horseshoe, frying pan, and a Teddy Bear piece is known as well. There are encasements shaped like the state of Wisconsin, cents encased in a wooden nickel or wooden dollar, and the classic chamber pot shape as well.
I have an entire page of varieties HERE.
Kent Johnson collects encased by date and mint mark. He has provided a Checklist of 20th Century Encased. He sent it as a spreadsheet which I converted to a pdf file for convenience.
Do you know of other shapes? I am particularly interested in using this site to build the body of information about encased coins. There are very few books about them. The best known is The Penny Man by Bryan G. Ryker. It tells the story of Frederick Earl Fankhauser who sold encased cents to businesses. He added his name to many of his pieces allowing us to attribute these pieces to him. He lived in Fort Wayne, IN and many of his pieces are from Fort Wayne and the surrounding area.
There are other pamphlets/catalogs listing pieces from various states and an extensive Maverick index. What is a Maverick? Encased coins as advertising pieces usually have a business name on them. Frequently this included an address with the city and state, but not always. Pieces that can not be readily attributed to a particular city and state are called Mavericks.
This piece is easy to attribute as the business name and address including city and state are clearly listed.
This piece however has no indication of location.
Encased collectors collect pieces in a variety of ways. Many collect just a particular city or state. They probably even collect other tokens from that area as well. Some encased collectors collect by business type. Automobile dealers, banks, or from National Parks. Some collect by date as well. They try to get a set of encased coins by the date. There are as many ways to collect encased coins as there are collectors.
Articles About Encased Coins
A section has been added for original articles about encased coins. Click Here to view the list of articles. If you would like to submit an article for posting on the website just email a copy to me at bdperdue1@netscape.net. All articles should be original work and will be attributed to the author with all rights reserved. If you'd like to be notified when I update an article or post a new one email me at the above email address.