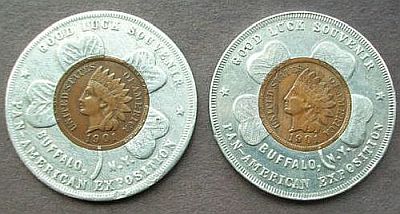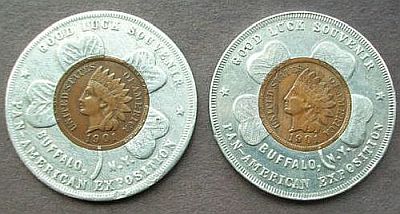 Note the left and right facing stems.
(Hover for larger image)
Encased Collectors Email List
I have been meaning to add an email list to the site for some time. Now seems to be that time. The list is strictly opt in. The initial group will be individuals who I have received emails from concerning this website (encasedcoins.info). I am sending these individuals an invitation to join the list. Again this is opt in, so if you want to be on the list you need to reply to this email with "subscribe" in the subject line.
List Purpose
The list is meant to inform interested collectors of changes to this website and to notify them of significant or interesting discoveries about encased coins. It is my intention to send an email to the list a maximum of once a week. In the email I will update you on additions to the site, interesting items on eBay, and anything significant to encased collectors. I will accept submissions to the email list pertinent to encased collecting. I will NOT accept commercial ads. I may accept trade or buy/sell classified ads if here is a demand.
Some of the things that I am hoping to do if there is interest are:
Discussion of ways to collect encased
Buy/Sell/Trade lists
Update of known lists. (eg. Victory Encased)
Discussion of types of encased
Privacy
The names and email addresses of members of the list will not be posted or sold.
Index of News Letters
Click on the issue to open in a new tab