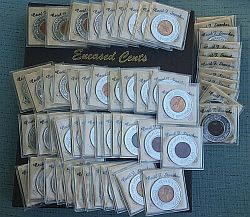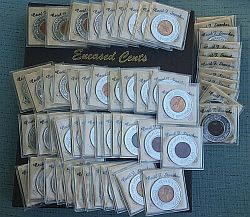 Houlton HS Lot Cecil Starcher collection - (Hover for larger image)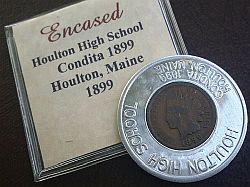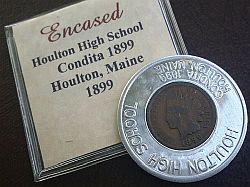 1899 Indian Cent Houlton HS - (Hover for larger image)
Encased Newsletter v01n06
December 14, 2021
Seasons Greetings
Intro
I have added several new members to the email newsletter list. They found their way to us through my website and through eBay communications. Please keep forwarding the newsletter to other encased collectors! Thanks to everyone, and Season Greetings!
Readers Replies:
Gray H. asked for a copy of the ECI Iowa list and sent me a working copy of his booklet of Iowa encased to proof. It is a work in progress that includes images of both sides of all of the known Iowa encased. He has them listed by city. The booklet is very interesting and my only suggestion was to include a cross referenced list of the pieces by date and slogan. If the city is known then his layout is perfect. Personally being addicted to spreadsheets of encased I tend to like the ability to sort and hunt by a variety of methods. But when thinking it over the "By City" layout he uses is very good!
R.L asks - A question for your readers --  "I have shied away from purchasing encased coins that are holed for a keychain since I do not have the information to determine whether the hole was done by the manufacturer or the owner.  I realize some of the Fankhauser encased coins were holed by the manufacturer, so I do purchase those.  I occasionally get a holed example when I purchase a group of encased coins and one is holed. Is it possible to identify whether the hole is by the manufacturer or has been added later (without having access to the original order information)?"
Editor - in working with Bryan's list of Osborne work orders, which includes Earl Fankhauser's encased, I find that horseshoe encased were holed and included a chain a large percentage of the time. I'll try to get a better percentage on this for the next issue.
RL also responded to my what to call the aluminum ring that encases the coin?
"In reading some of the information on the old ECI site, I found the following: PENNY PRESS MINT is the only known producer of encased coins world wide. We are striking round casements in aluminum, bronze* and copper* for cents, nickels, dimes, quarters, half dollars and small dollars for both U.S. and Canadian coins. "
Editor - I don't like the term casement. Also I hesitate to give Penny Press the final word on the term. These are of course personal observations. Anyone else have any thoughts?
JC - A new subscriber who I reached out to about Cecil asks - "If anyone has or knows of an encased 2005 West Virginia silver proof quarter." Cecil had some made and he is looking for one. If you know of one for sale let  me know and I will pass it on.
MM writes - I "would like to join your encased coin mailing list/club and also purchase one of your fankhouser books."
Editor - I added MM to the list and pointed him toward Bryan Ryker for a copy of "The Penny Man". If anyone else needs a copy I think that Bryan has more available. We should encourage Bryan to list it on eBay.
The seller who I bought the Houlton HS collection from wrote - "Sadly, Cecil passed a few years ago. In 2019, his daughters reached out to me about purchasing what they had of his collection/inventory. I did so in spring of that year. I have sold some of his encasings already. I don't really know the history of the Houlton collection you purchased. He did so many. I still have the vast majority of his collection of older encasings, including all his Fankhauser issues."
Editor - I encouraged him to list those pieces of Cecil's he has on eBay, as I am sure several of us would be interested in buying them.
Houlton HIgh School Encased
I acquired a collection of encased cents that belonged to Cecil Starcher. I will have a page about this up soon! - Bruce. (See Houlton HS Encased).
ECI using Wayback
Several readers have responded about accessing the ECI site using the wayback machine link I provided. Several encountered difficulty with the links not responding. I suggested using a different browser or different operating system. "iPad" for reasons I am unfamiliar with doesn't allow access to the ECI links. I believe that that is due to settings in Safari the Apple browser. On my desktop I can reach it using Chrome or a Chrome derivative (CCleaner browser). I dislike IE and Edge so I don't use them and do not know if they work. I recommend trying a different browser or "Google" the problem. There may be an explanation available. Those that did access the site were pleased to be able to reach most of the old information. A fair amount is slightly out of date, but lots is still current or relevant.
Definitions
I asked for definitions regarding encased coins and haven't had too much feedback. I will be vacationing in California for a bit and will work on that page during that time if possible. I have been calling the advertising on an encased coin the "motto" but have come to regard "slogan" as a possibly better term. The typical obverse has a motto - "Keep Me And Have Good Luck" or "Keep Me and Prosper ''. While the reverse has ad copy promoting the business or club or occasionally the individual. Should we refer to these with separate terms? Let me know your thoughts!
Thanks for reading!
Bruce