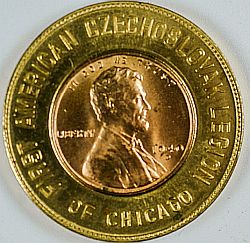 Obverse reads: FIRST AMERICAN CZECHOSLOVAK LEGION OF CHICAGO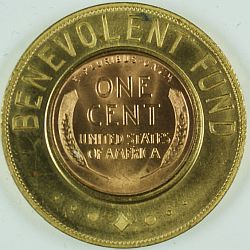 Reverse reads: BENEVOLENT FUND
Encased Newsletter v02n02
January 17, 2022
Intro:
There is one new subscriber this week. Monte is a new collector and found my site through search. He wondered if any of the subscribers of this newsletter have encased for sale. If you would like Monte's email address send me an email.
Readers Comments:
Bob asks: Are there any horseshoe shaped victory encased coins?
Editor - There are none that I know of. I don't even know of any Victory other than the round traditional type 1 and type 2 obverse. There are what I call the "Other Victory" encased. See http://encasedcoins.info/victory2.html. But, I have not seen any horseshoe shaped victory encased. Anyone know of any??
Buck has asked about the slabbed encased that have recently shown up on eBay. Several have been listed and one a type 2 Victory encased has two bidders. I have to confess that I am surprised by this one. I think I made my feelings known last newsletter.
eBay:
Editor - I am an avid follower of the eBay encased cat. I am continually surprised by the prices being asked. My comment today is about the sellers who insist on holding coins in their hands. Really? Does that make the encased coin more interesting? Not so much. Then there are the sellers who upload images of their encased that are small. Why wouldn't you fill the space available so that the buyers could properly evaluate the coins? Last comment - have you noticed that recently there are a number of sellers who are selling groups of encased.
Bryan Ryker was behind on his email reading and sent me a number of thoughtful and interesting responses to past newsletters.
Bryan - "My answer to the question about original holes is that they were made with a punch in a punch press, not a drill or hand punch. As such, the hole is "clean" on the inside and does not fan out on the opposite side of the piece. Usually an original piece shows some flattening around the hole on the opposite side, from where the female side of the punch set was in contact with the piece. In most instances the hole is through the clover. Perhaps most important, if the hole is original (HAM - holded as made), the wording in the inscription has been spaced out to leave room for the hole. If the hole goes through any part of the inscription, it was added later."
Editor - This one fits with my eye test/memory of what I learned when I went through the Osborne work orders…
Bryan: "In answer to your question about the Osborne records, 86% of horseshoe pieces had a hole. 96% of the bells had holes. 17% of the 1 3/8" rounds had holes. And only 7% of the 1 1/4" rounds had holes."
"Finally, I like "motto", to describe the KMANGB "stock die" side of a piece. I use inscription to describe the custom side of the piece. Some pieces have inscriptions on both sides."
Editor - I like Bryan's thinking and am going to go with these as appropriate definitions.
Bryan in response to newsletter v02n01 - "I agree with your assessment on what is and is not an encased coin. The item must be a token."
Bryan adds - "It would be nice to include the photo of the article I sent that Jim Skwarek found, along with some of the other photos of pieces I sent earlier on other topics. Photos are interesting for readers to see, and they record the discussion."
Editor - I added images to the first newsletter and a number of readers were unable to read it or it went to spam, so I stopped adding images. Instead I add links to the images on my website. I am looking at ways to overcome this issue that don't cost me anything.
Additionally Bryan says - "I have a complete set of the ACE (Associated Collectors of Encased) publications #1-28 of "The Casement" in print at home that I would be happy to scan and forward to you someday, if you want to store them on your site for posterity. ACE was the first, and I thought it was great. I am not aware of anything that ACE did online or in digital form, so I don't think there are any records of catalogs to be found. Whatever catalogs were started with ACE were likely continued with ECI.
By the way, it was Jerry Binsfeld who started ACE. Unfortunately I've lost touch with him. It was active from 1995 - 2003. I can't recall the reason why it ended, but I seem to remember there was some competition with ECI at around that time."
Editor - I'd love to have copies of "The Casement" scans for the site. I emailed Bryan recommending that he give copies to the Newman Numismatic Portal if he hasn't already. Great feedback from Bryan and lots of interesting information. Thanks Bryan!!
Stork Club Encased:
A couple of newsletters ago I commented about the manufacturer of the Stork Club encased. At that time I saw no indication that Earl Fankhauser sold these to the Stork Club. With Whitehead and Hoag nearby in Newark, NJ, I couldn't see why The Stork Club would go to Osborne Coinage in Cincinnati, Ohio. In examining my 1948 D brass encased Stork Club recently I saw at the bottom of the encasement in tiny letters, "Osborne Coinage, Cin, O". So here is proof that the 1948 brass encased cent was made by Osborne.
http://encasedcoins.info/storkclub_eci.html
I reached out to Bryan Ryker about Earl Fankhauser and when he started selling encased coins for Osborne. Here is his reply:
"As far as I can tell, all of his pieces were made by the Osborne Coinage Company. Fankhauser ordered his first pieces in 1948. In that year he had two pieces made for his family, and began taking orders for others from various businesses around town."
"Here is the latest information on how many different pieces he had made in each year:"
| | | |
| --- | --- | --- |
| 1948..... 12 | 1956..... 20 | 1962..... 44 |
| 1950..... 2 | 1957..... 40 | 1963..... 82 |
| 1952..... 23 | 1958..... 42 | 1964..... 72 |
| 1953..... 63 | 1959..... 47 | 1965..... 39 |
| 1954..... 38 | 1960..... 84 | 1966..... 11 |
| 1955..... 32 | 1961..... 44 | |
Based on this information I conclude that Earl Fankhauser did not sell encased to The Stork Club. There is no doubt that Osborne Coinage made the 1948 brass encased cent. Did Osborne make the earlier Stork Club pieces?
Images of the manufacturer names can be seen at http://encasedcoins.info/storkclub.html. See the new information at the bottom of the page. I am still working on images of the brass encased with the "Osborne Coinage, Cin, O".
My apologies to Jim Lawniczak who I doubted regarding Earl Fankhauser selling to The Stork Club or Osborne manufacturing encased for The Stork Club.
Miscellaneous:
Bryan's terminology as mentioned above is exactly what I was looking for! An encased coin has to be a token. Further as I mentioned above I agree with Bryan; " like "motto" to describe the KMANGB 'stock die' side of a piece. Inscription seems to describe the custom side of the piece. nicely. Inscriptions can be on both sides.
If you have suggestions regarding definitions that apply to encased coins please send them this week. I am working on a definition page that will be done this week. While looking at the edges of "The Stork Club '' encased I became interested in how the denticles at the edge looked under magnification. I wonder if there are any articles or studies about the edges and denticles of encased. It may be a clue to who manufactured what.
That's it for this time.
Bruce