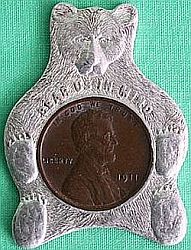 Obverse reads: - BEAR US IN MIND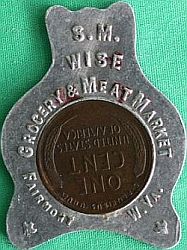 Reverse reads: S. M. WISE GROCER & MEAT MARKET FAIRMONT, W. VA.
Encased Coins Newsletter V01n03 - 11/2/2021
Greeting Fellow Encased Coin collectors!
What's New?
I have a number of topics to discuss this week. Terminology as it affects encased coins being one. We have an otter to trade encased from reader Paul and I have a few questions that I'd like your opinion on. This newsletter will only survive on the input form readers and by getting new readers. We still have the original 16 subscribers. So pass it along to other collectors and keep those cards and letters coming...well emails at least.
Definitions?
You know those pesky encased where the guy making them puts the coin close to the bottom or left side? What do we (collectors of encased) call them? Off center encased? Off-center encased? Offcenter encased? Off Set encased, offset encased, or off-set encased? I am thoroughly confused and willing to adopt a standard term for them. What do you prefer? Let me know and next week I'll publish the results.
Then there are those encasements that are aluminum, but they seem to come in a variety of colors! What shall we call them. Are they anodized aluminum encased? Encased coins with a colored encasement? I'm confused for sure here.
What is an encased coin?
Again I am looking for a definition. Does a slabbed coin count as encased? The sellers on eBay seem to think so. What about bezels? Lucite paperweights with coins embedded in them? Traditional encased are the standard 1 1/14 inch, 1 1/2 inch round aluminum encasements with a cent in the center and a "Good Luck" wish on the obverse side and advertising on the other. IMHO. Oh yeah, don't forget the vulcanite and celluloid encased...hummm, there must be some I have forgotten? Of course the shapes that exist from round and horseshoes, to bread loafs, teddy bears and state shaped encasement.
What do you think? Tell me so I can pass along the information.
Notes from Readers:
Paul C., Opined that the Kewaunee Line encased may have been related to "Kewaunee aluminum cookware may have been made in Manitowoc, WI." There could be a connection there. Paul also in response to what to call the aluminum encasement - I think the aluminum blank would be called a planchet, just as it is for coins. IMHO, Paul C. Interesting POV, however below is a definition of a planchette from the US Mint.
Planchet: The blank piece of metal on which a coin design is stamped. Proof: A specially produced coin made from highly polished planchets and dies and often struck more than once to accent the design. Proof coins receive the highest quality strike possible and can be distinguished by their mirror-like background and frosted foreground.
So in my mind that doesn't apply to encasements or the ring around the coin in an encased coin.
Trade offer
Bob from Tucson offers, ,q>Over the past several years, I have accumulated about 200 duplicate encased coins and am interested in trading for items that I do not have. The duplicates are "singletons&quot:, by which I mean that I do not have more than one of each duplicate. Do you know anyone who might be interested in exchanging lists of duplicates? Please mention my email address in the newsletter if anyone wants a copy of my trade list.
Thanks.
Bob Fair bobfair@yahoo.com
Any Takers?
New Encased (New to MY collection)
After an extensive bidding war I bought the Kansas City, MO Teddy Bear Bread / Bakers Publicity Co. I now have 9 of what I believe are 15 known Teddy Bear Encased. I have one duplicate that is available for trade/sale. It does not have the original cent. It is from Farmers & Merchants Bank / Winchester, IND / Homecoming Oct. 8, 9, 10 1913 it is holed thru the head between the eyes. A worn example. The new one I have is full red MS and looks new!
I lost out on a "goblet encased" in the Holabird Auction 10/31/2021. The encased sold for $650 plus 25% fee and shipping. I wanted it, but I just couldn't justify the expense. I do not want to know if I was bidding against any one receiving this newsletter. It was a souvenir piece from the "1901-1902 CHARLESTON EXPOSITION". The Obverse reads: "SOUVENIR / GOOD LUCK / CHARLESTON ESPO / KEEP ME FOR GOODNESS SAKE". The reverse reads: "CHARLESTON EXPOSITION / SOUVENIR / 1901-1902 / I'M IT". On the foot of the goblet on the reverse it also says, GES_____UNG & CO., Cin. O. I can not read all of the manufacturer's name. Any ideas? It is not Osborne. The G E S are plain to see.... It can be seen as https://holabirdamericana.liveauctiongroup.com/Charleston-Exposition-Encased-Indian-Head-Penny-136249_i43226086.
The only other example of an encased goblet that I have seen was shown by The Penny Lady on the collectors.com forum. It is a 1901 and reads: GOOD LUCK / KEEP ME / AND NEVER GO BROKE / GOOD FOR / 5 / IN TRADE. The reverse reads, A. BERKOWITZ / 243 / HIGH ST. / HAMILTON, / O. You can see it here; https://forums.collectors.com/discussion/987451/encased-cent-thread#latest - I once asked for permission to use the image on my site and was denied, so there you are if you want to see it.
Storage
I personally keep my encased in 2 x 2 cardboard holders with mylar or non vinyl window. I then am storing them in mylar archival pages in a notebook that lays flat. This allows me to view the encased coin easily on either side and keep like ones together. I have sorted them by the following scheme, although not a complete list.
By City of State
Teddy Bears
Pan-Am Expo
Ovals
Celluloid
Earl Fankhauser
Denominations
Irradiated
and so forth ad nauseam or if you prefer Ad infinitum
Any other ideas? I know that Buck has recently bought some hard plastic round holders for his encased. I did use boxes for a while, but couldn't see what I had. I am working on an updated Excel spreadsheet to achieve an inventory of the over 800 encased that I own.
Earl Fankhauser Pieces
Buck, who I mentioned a minute ago recently bought an EF encased from eBay for BOBCO Coins. It has an encased Panama centesimo. I looked for the work order in the images I got from Bryan Ryker and found that particular order. There were 1000 total made. When I looked at Bryan's spreadsheet for Osborne Coin, Bryan listed two lots of 500. Turns out that they made 500 with the Panama centesimo and 500 with a 1963 D cent. Buck found it listed and bought it as well. I am happy to look up any EF encased you have. The records I got from Bryan (THANKS!) cover 1946 through 1966 or so. Even if you aren't looking at an EF encased cent, but it falls into that era I may be able to provide the work order IF and only IF Osborne made the encased coin.
Thanks for reading! Keep the cards and letters coming! Without input there can be no output!