Encased Coins Dot Info
---
Teddy Bear Encased Coins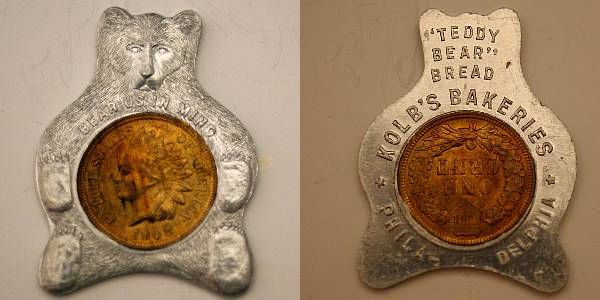 Kolb Bakery Teddy Bear Encased
Teddy Bear Shaped Encasements
According to ECI
( http://www.encasedcollectorsinternational.org/Topics_CL/Teddy_Bear_Encased.htm) there are twelve (12) known "Teddy Bear" shaped encasements. The list was compiled in 8/9/2005 by Cecil Starcher. With the addition of two newly discovered pieces sold on Ebay the count is now 14
| | | |
| --- | --- | --- |
| Date | Subject | City, State |
| Unknown | Baker's Publicity | Kansas City |
| Unknown | Collin's Baking Co. | Buffalo, NY |
| Unknown | Toledo Sporting Goods - High Grade Bicycles | Toledo, OH |
| Unknown | Arthur Furniture | Scribner, NE |
| 1907 | Souvenir Of Old Vienna | Atlantic, NJ |
| 1907 | Souvenir Of Niagara Falls | Niagara Falls, NY |
| 1908 | Teddy Bear Bread - Kolb's Bakeries | Philadelphia, PA |
| 1908 | Teddy Bear Bread - White's Modern Bakery | Unknown |
| 1910 | Standard Sign Mfg. Co | Pittsburgh, PA |
| 1910 | Teddy Bear Bread - Taste Tells The Tale | Unknown |
| 1911 | S.M. WISE GROCERY & MEAT MARKET – FAIRMONT W.VA | Fairmont, WV |
| 1913 | People's Loan & Trust Co. | Winchester, IN |
| 1913 | Platt & Perkey 9.99 Clothiers | South Bend, IN |
| 2005 | UCLA | Los Angeles, Ca |
An additional "Teddy Bear" has shown up on eBay. The reverse advertises "S.M. WISE GROCERY & MEAT MARKET – FAIRMONT W.VA." The obverse has the legend, "BEAR US IN MIND". The piece sold for in excess of $850. The cent is a 1911 Lincoln cent. I was not surprised at the price since it was a new unknown piece.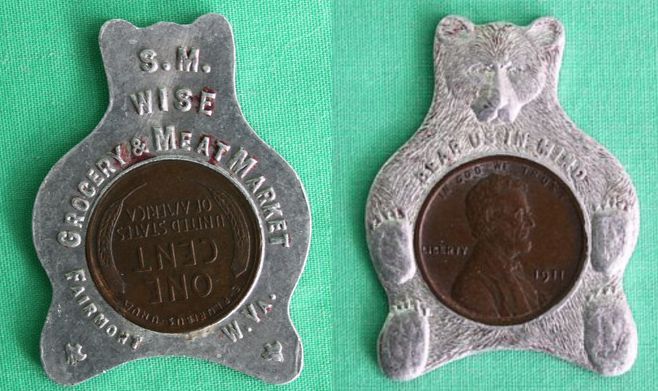 I bought this Arthur Furniture Co. Teddy Bear on eBay without the cent Nov 2012. The reverse has the legend, "Arthur Furniture Co. Scribner, NEBR." and appears to be damaged when the coin was removed.
An additional "Teddy Bear", sold on Ebay recently (5/20/2012). The encasement is empty and there is no way to tell if it ever had a coin in the encasement. The encasement reads, "Baker's Publicity, Kansas City" "Teddy Bear Bread" on the reverse and "Bear Us in Mind" on the front or the bear. Could this be a "sample"? Was Baker's Publicity responsibility for designing the "Teddy Bear" encasement?
Baker's Publicity Co published a Teddy Bear Bread booklet illustrated by W. W. Denslow the original illustrator of the "Wizard of Oz" in 1909. A copy of that pamphlet is currently offered on Amazon.com for $150.00. W.W. Denslow illustrated material is widely collected. Baker's Publicity Co, Kansas City, MO. is still a registered company in Missouri, (as of 2016) although currently inactive.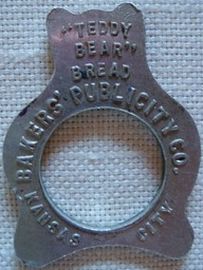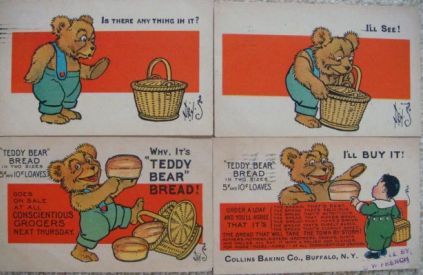 Teddy Bear bread postcards illustrated by W.W. Denslow
What's New
Articles are listed newest to oldest complete list at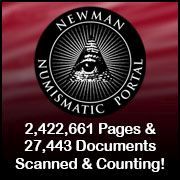 The Newman Numismatic Portal (NNP) has the largest online searchable collection of numismatic literature, periodicals and auction catalogs.