Encased Coins Dot Info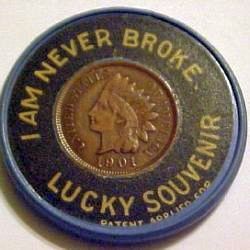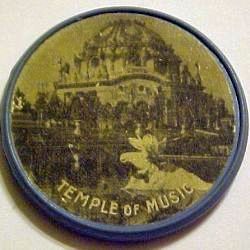 Vulcanite encased Pan Am Temple of Music 1901 Pan Am Exposition, Buffalo, NY
What Are Encased Coins?
An "Encased Coin" is a coin, often a cent, that has been inserted into an aluminum blank or an encasement of other composition. If inserted into an aluminum ring or washer, the coin is placed into a press that squeezes the encasement on and presses advertisements or other design elements into the metal. If the encasement is not metal the coin is inserted by hand as the piece is made. Frequently one side will have a slogan such as "Keep Me and Have Good Luck". Hence these cents were called "lucky pennies". These were sold to businesses as advertising pieces, and as souvenir pieces. They could be customized with a wide variety of information, including "Name", "Address", "Phone Number" and advertising slogans.
Encased coins are classified as a token. Tokens include, but are not limited to love tokens, encased tokens, elongated cents, and trade or advertising tokens. Encased coins are recognized by TAMS (Token and Medal Society) as trade tokens as they have the implied value of one cent.
The encasement frequently has good luck symbols such as the horseshoe, wishbone or four-leaf clover and many contain them all. The first encased coins showed up around the "turn of the century (1900)" at the Pan-American Exposition Buffalo, N.Y. Encased coins containing coins dated prior to 1901 are known, but appear to have been created after 1901 or contain a coin that replaced the original coin. After 1901 encased coins can be found advertising restaurants, expositions, world fairs, and just about any business you can name.
A Variety of Encased
Encased coins are generally recognized as those that are encased in a metallic ring. However a wider definition might encompass any coin encased in another substance as long as the coin is visible. So what else qualifies? How about coins encased in plastic as a paperweight? Or coins encased in pocket mirrors as advertising pieces. Key chains with plastic coated coins, belt buckles, jewelry, clocks and other encasements. Slabbed coins (graded by a grading service) are NOT encased coins as the encasement of the coin is to protect it from environmental factors and to assure the buyer and the seller that the coin is certified as to grade, condition and authenticity.
The wide variety of shapes are also known for encased cents (coins). The best known are the round encasements which vary in size from 32 MM to as large as 50 MM. Then there are bell shaped encasements, horseshoe, frying pan, and a Teddy Bear piece is known as well. There are encasements shaped like the state of Wisconsin, cents encased in a wooden nickel or wooden dollar and the classic chamber pot shape as well. (Pictures of these will be posted soon)
Do you know of other shapes? I am particularly interested in using this site to build the body of information about encased coins. There are very few books about them. The best known is "The Penny Man" by Bryan G. Ryker. It tells the story of Frederick Earl Fankhauser who sold encased cents to businesses. He added his name to many of his pieces allowing us to attribute these pieces to him. He lived in Fort Wayne, IN and many of his pieces are from Fort Wayne and the surrounding area.
There are other pamphlets/catalogs listing pieces from various states and an extensive Maverick index. What is a "Maverick"? Encased coins as advertising pieces usually have a business name on them. Frequently this included an address with the city and state, but not always. Pieces which can not be readily attributed to a particular city and state are called "Mavericks".
This piece is easy to attribute as the business name and address including city and state are clearly listed.
Encased collectors collect pieces in a variety of ways. Many collect just a particular city or state. They probably even collect other tokens from that area as well. Some encased collectors collect by business type. Automobile dealers, banks, or from National Parks. Some collect by date as well trying to get a set of coins by date that are encased. There are as many ways to collect encased coins as there are collectors.
Articles About Encased Coins
A section has been added for original articles about encased coins. If you would like to submit an article for posting on the web site just email a copy to me at bdperdue@netscape.net. All articles should be original work and will be attributed to the author with all rights reserved.



What's New
Articles are listed newest to oldest complete list at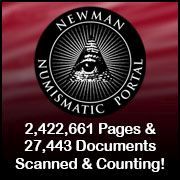 The Newman Numismatic Portal (NNP) has the largest online searchable collection of numismatic literature, periodicals and auction catalogs.