Encased Coins Dot Info
---
Oval Shaped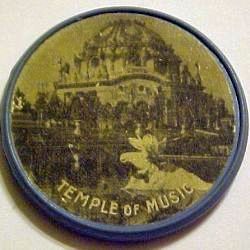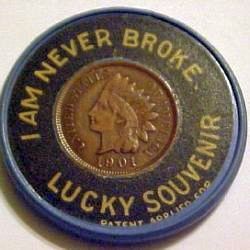 Vulcanite encased Pan Am Temple of Music 1901 Pan Am Exposition, Buffalo, NY
1948 S Oval Encased Cent
Here is a recent Ebay purchase. I currently only have one oval encasement. I have not seen more than one or two other ones on Ebay. This oval encases a 1948 S cent. This is unusual as the encasement advertises Samuel Auerbach Inc. / Unusual Novelties / 14 E. 34TH, N.Y.C. I find it unusual for a San Francisco mint marked coin to be encased for a New York City firm....but then they do offer unusual novelties.
Notice on the Obverse that it only says, "GOOD LUCK". Most encasements have the generic "Keep Me & Never Go Broke / I Bring Good Luck. But this piece only has the "Good Luck" and the Horseshoe, Four leaf clover and the Wishbone. On the Obverse there is the advertising message, "SAMUEL AUERBACH INC. / UNUSUAL NOVELTIES / 14 E. 34TH, N.Y.C."
I have been unable to find any information as yet on "SAMUEL AUERBACH INC." I ran a Goggle search and found nothing beyond the listing on Ebay and a listing on ECI's website. If you have any information regarding "Samuel Auerbach" please let me know.
What's New
Please visit the Numismatic sites below for additional information on coin collecting.
The Newman Numismatic Portal (NNP) has the largest online searchable collection of numismatic literature, periodicals and auction catalogs.