Encased Coins Dot Info
---
Mead's Fine Bread
Mead's Fine Bread 1949 Encased Cent
Encasements for coins take on many different shapes. The common round shape is well known in several diameters. However one of the most popular and unusual shapes to collect is the bread loaf shape. There is only one bread shape that I know about and that is the Mead's Fine Bread encased. The design of the encasement is such that the piece looks like a loaf of bread in three dimensions, while only being a two dimensional object. Some clever perspective design shows the end of the loaf as well as the side. The piece has Mead's fine Bread on the front and the back is plain. There is no record of who created these encasements for Mead's. The encasement is approximately 2 ½ inches wide by 1 ¼ at it's tallest point. The encasement material is the traditional aluminum and the thickness of a cent. It appears to have been made to use with a key chain as it has a hole at one end.
The Mead company is famous in legal circles for setting a monopoly precedent at the Supreme Court of the United States. Mead's Fine Bread operated in Texas and New Mexico. They had a competitor in Santa Rosa, Texas and Mead's cut the price of their bread from 14¢ to 7¢. They only cut the price in Santa Rosa, but not in other Texas or New Mexico locations. The Supreme Court ruled that this was monopolistic behavior and that as an interstate and intrastate company is was illegal to cut the prices in one town without cutting their prices in all their locations. (https://caselaw.findlaw.com/us-supreme-court/348/115.html - United States Supreme Court, MOORE v. MEAD'S FINE BREAD CO.(1954))
Mead's Bakery was founded in 1918 by J.H. Mead and his four sons. The company had plants located throughout the southwest including Big Spring, Wichita Falls, El Paso, and Amarillo in Texas, Lawton, Oklahoma and Albuquerque, New Mexico. It appears that in 1978, the Mead family sold the company to a Dallas-based holding company. The bread company was known for its radio jingle,That's what I said. Mead's Fine Bread.
What's New
Articles are listed newest to oldest complete list at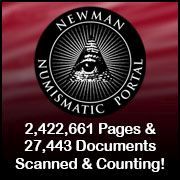 The Newman Numismatic Portal (NNP) has the largest online searchable collection of numismatic literature, periodicals and auction catalogs.