---
Encased Silver Dollars
1922 Peace Dollar Encased by Harrah's Casino
Encased Silver Dollars are while not a rarity they are highly sought after and always valuable. They were made as rewards to salesmen, dealers and giveaways to important customer. This page will show examples of encased dollars. In the case of the Harrah's example above the encasement is metal and appears to be brass with a silver colored coating that has been engraved to show the brass underneath. the engravings are a variety of gambling devices and Las Vegas oriented images. The encasement grips the coin without covering any of the obverse and completely covering the reverse.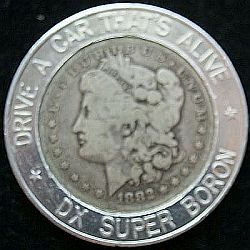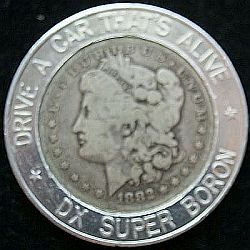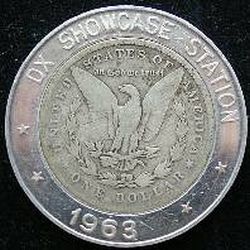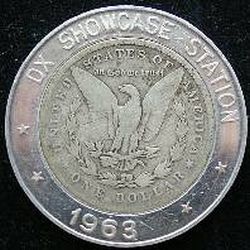 Boron was a product and brand name of Sohio (Hover over the image for enlarged view)
A Sohio Boron branded gasoline station in 1972. The Standard Oil Company (Ohio) was only legally allowed to use the Sohio and Standard Oil brand names within the state of Ohio and marketed gasoline under various brand names outside its home state. The Boron name was used outside of Ohio in neighboring states, like Michigan, Pennsylvania, Kentucky and West Virginia. Boron was also the branding of its premium grade gasoline along with its regular grade fuel "Extron" (formerly "Ex-tane" later "Octron") and its unleaded version "Cetron" introduced in 1970. (https://en.wikipedia.org/wiki/Standard_Oil_of_Ohio)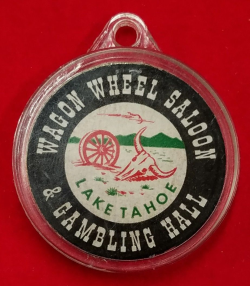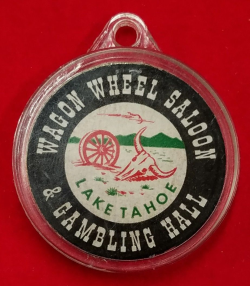 The "Wagon Wheel Saloon" above is encased in clear plastic and has key chain hole at the top. (Hover for larger image)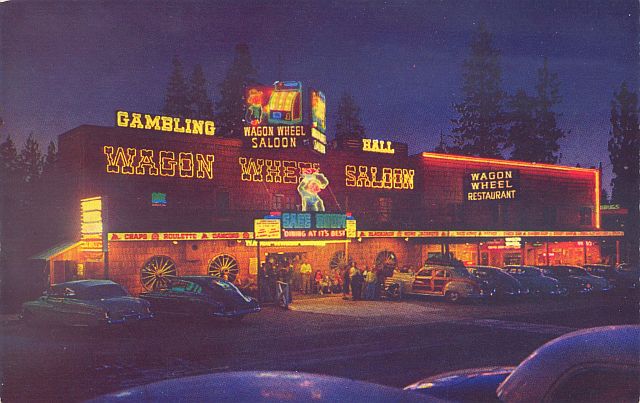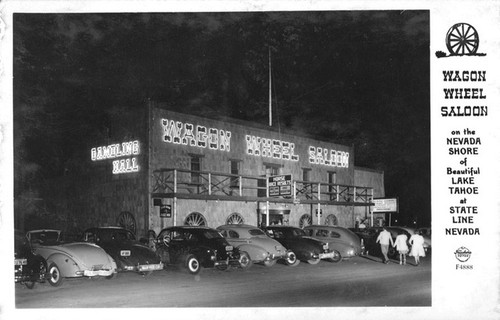 The Wagon Wheel Saloon was started by Harvey and Llewellyn Gross in 1944. It originally had 3 slot machines and two card tables and was a log cabin. It had the only 24 hour gas pump between Placerville and Carson City. Today it is know as Harvey's Resort Hotel & Casino and is still in the family.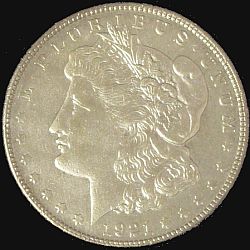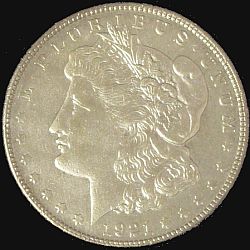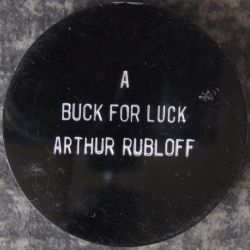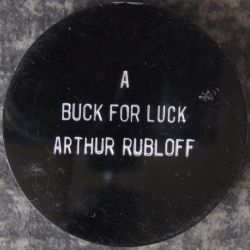 The case is black plastic (Hover for larger image)
Arthur Rubloff was a real estate developer in Chicago. (June 25, 1902 - May 24, 1986) He is crdited with developing the north end of Michigan Avenue in Chicago into what is know as the "Magnificant Mile".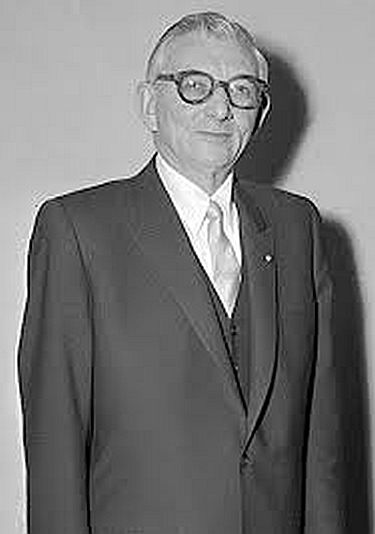 Arthur Rubloff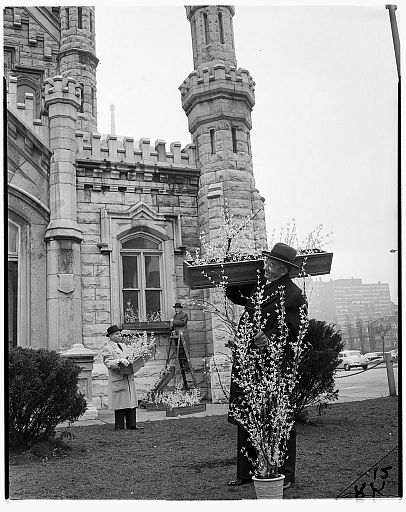 Arthur Rubloff, B. E. Arnold and Everett R. Cook
decorating Michigan Avenue with forsythia sprays. (1)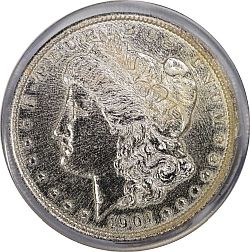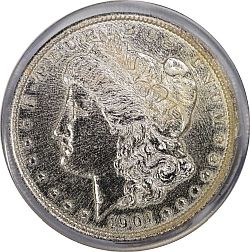 Obverse of the "Buck for Luck"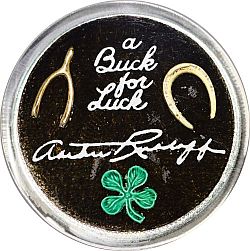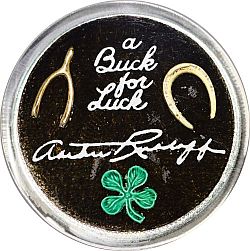 The case is clear plastic with a sticker with information. - (Hover for larger image)
Calvert Whiskey was developed in Baltimore circa 1939 by the Seagrams company. The brand was named for Lord Calvert who founded Maryland. It was originally a premium brand now is middle of the road.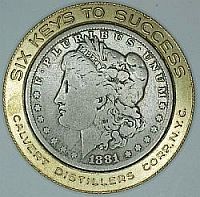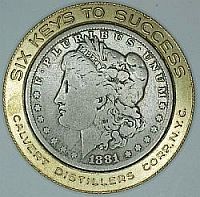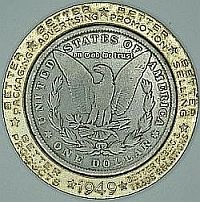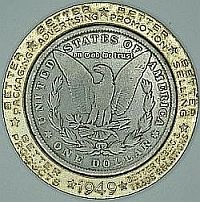 Advertising piece 1949 Given to Salesmen - (Hover for a larger image)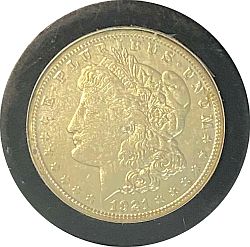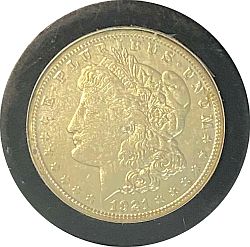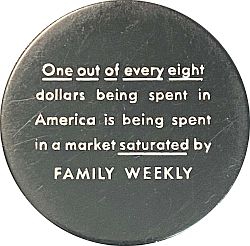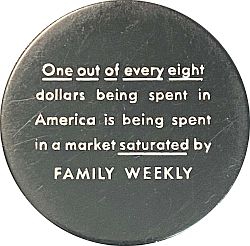 Family Weekly Silver Dollar - (Hover for a larger image)
"Family Weekly" was a magizine inserted into Sunday or weekend papers in the USA. It was similar to "Parade" althouggh it never reached as large a market as "Parade". Advertising was a major source odf revenue, hence the reference to "market saturation". It was founded in 1952. It was purchased by Gannett Company and rebranded as USA Weekend. It ceased publication in 2014. (Wikipedia)
Below are two different encased silver dollars advertising "Olden Camera NYC". Notice that the first example has the advertising on the reverse of the encasement and the second on teh obverse.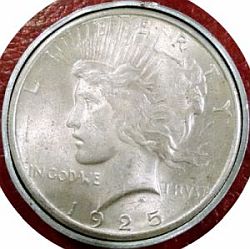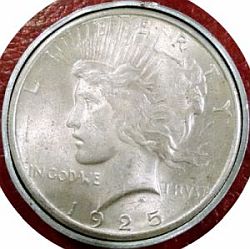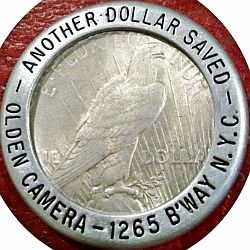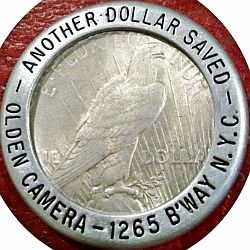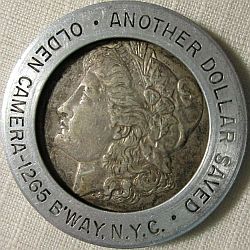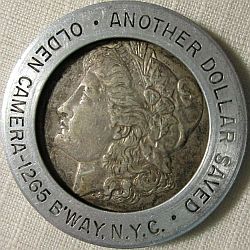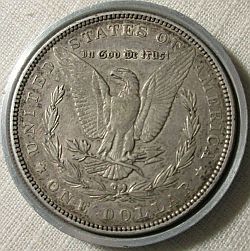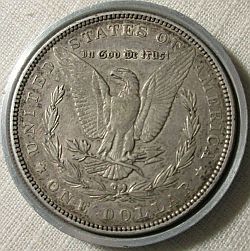 Piece Dollar and a Morgan Dollar advertising "Olden Camera NYC". - (Hover for a larger image)
1925 Encased Peace Dollar "Olden Camera NYC" - (Hover for a larger image)
Olden Camera still exists today in NYC. It was founded by Kurt and William Olden in 1947. The brothers had fled Germany in 1937 and became US citizens in 1944. Below is a sign painted on teh side of a building and a store front neon sign for Olden Camera.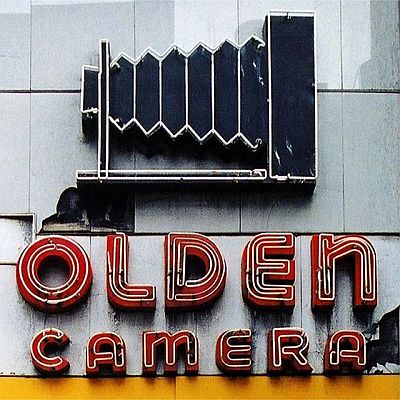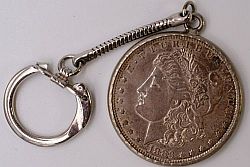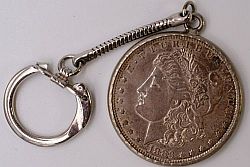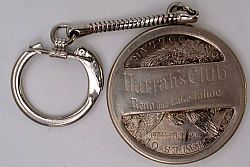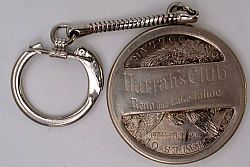 1883 O Keychain from Harrah's Club Reno and Lake Tahoe (Hover for larger image)
1922 Peace Dollar - Advertising "Jennie's Chicago" on Obverse. In small lettering "Blended Scothc Whisky / 86 Proof / Imported by Buckingham Corp. / New Yory, N.Y." (Hover for larger image)
Cutty Sark reverse - "Cutty Sark Scotch Whiskey" on reverse. Encased in white plastic 2 11/16 inch diameter 1/4 inch thick. Print on both sides raised with gold color (Hover for larger image)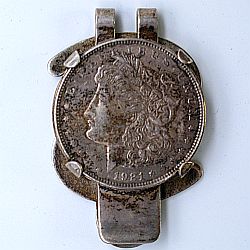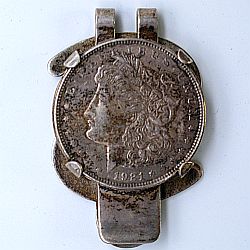 1922 Peace Dollar Money Clip - Sterling by Jennings (Hover for larger image)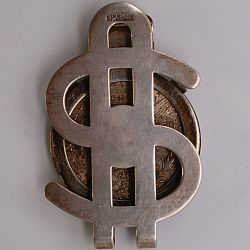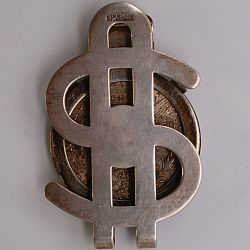 1921 Morgan Silver Dollar Money Clip - Sterling by Jennings at top of clip - clip is in dollar sign shape "$" (Hover for larger image)
Footnotes
1. ©Sun-Times Media, LLC. All rights reserved. Credit Line:ADN-0000145, Chicago Daily News/Chicago Sun-Times collection, Chicago History Museum; Bob Kotalik for Chicago Sun-Times, photographer