---
Dorsey Encased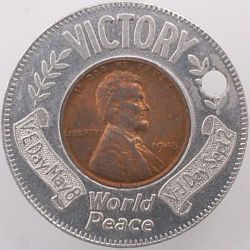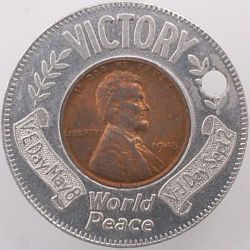 Obverse of "Victory Encased" The obverse reads: "VICTORY / V-E Day May 8 / V-J Day Sept 2 / World Peace" Holed at 2 o'clock doe chain. (
(Hover for larger image)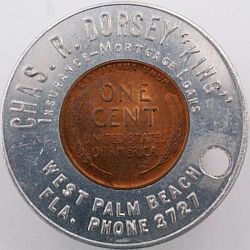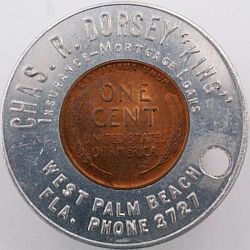 Reverse of the victory "Dorsey" encased. Reverse reads: "CHAS. R. DORSEY 'KING'" "WEST PALM BEACH / FLA. PHONE 2727" in a small font size "Insurance - Mortgage Loans"
(Hover for larger image)
One of my favorite encased series to collect is the "Victory Encased" series. The encasement has VICTORY World Peace and two scrolls one saying, V-E Day May 8 the other V-J Day Sept 2 on the obverse.
I like to research the companies shown on the reverses and try to learn about them. In researching these I have been looking for information on the companies or individuals who appear on the reverse. The one shown above is from Chas. R Dorsey 'King' of West Palm Beach, FL. Who ran an insurance and mortgage brokerage business in West Palm Beach. I had acquired an extra piece and sold it to his granddaughter.
She provided me with the following information regarding King and his business:
King and his brother DeWitt moved from Georgia to Palm Beach to escape a life of farming. They started Palm Beach Mortgage and then Dorsey Insurance, which was run by my dad and brother until 1997 when my dad retired.
King served in the US Army during WWI as a lieutenant. After the war, he returned to West Palm Beach and married. His son and later his grandson joined him in running Dorsey Insurance and Mortgage. King was in Rotary, the Chamber of Commerce, and very active in the local Baptist church. He acquired the nickname "King" because of his skill in playing baseball. He was also known as "Cotton" due to a full head of blonde hair. King Dorsey had two sons. One who died at an early age. The older was Charles R. Dorsey, Jr.who has a son named Charles R. Dorsey III and a grandson, Charles R. Dorsey IV.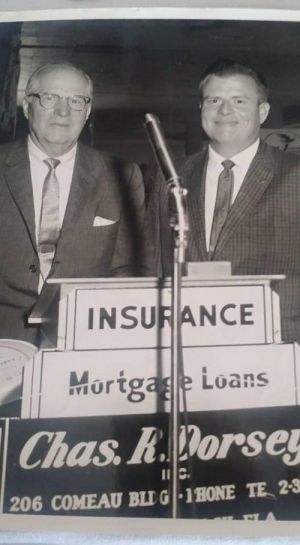 King Dorsey and son Charles R. Dorsey, Jr.
Images and information courtesy of Diane Dorsey.