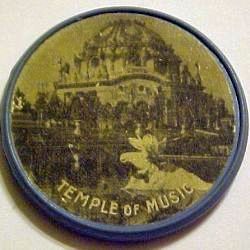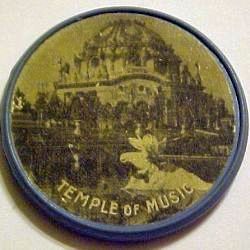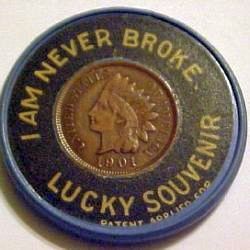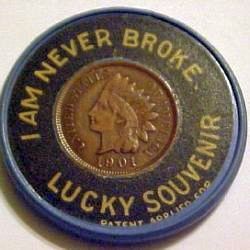 Vulcanite encased Pan Am Temple of Music 1901 Pan Am Exposition, Buffalo, NY
(Hover for larger image)
1901 Temple of Music Encased
The Pan American Exposition of 1901 was held in Buffalo, NY. The encasing of coins is thought to have originated at the exposition. There are several well-known encased from the exposition including 38 MM round pieces, 32MM round with offset coin, and the highly sought after frying pan. Then there are the vulcanite pieces.
These feature an Indian Head cent encased with the head's side showing and the reverse covered by the encasement. The encasement is vulcanite and has a picture of one of the various venues from the Pan Am Expo on the back. The pictures were nothing more than stickers attached with glue. The pieces measure 38mm in diameter and the vulcanite is known in several different colors.
The one of the Music Temple is probably the best known. It features a picture of the Temple of Music on the non-coin side. Mine is blue vulcanite and is shown above. It is reported that this piece also comes in red and orange.
Note that on the steps of the Temple of Music, President William McKinley was assassinated, by an anarchist, Leon Czolgosz. President McKinley was leaving when shot on September 6, 1901. He died 8 days later. This piece is all the more interesting because of this event. Teddy Roosevelt succeeded McKinley as President. Below is an encased 1900 Indian Head cent with a picture of McKinnley and Roosevelt on it. Certainly an election piece. From the loop at the top, it was a pendant.
This is the reverse of a pendant showing a picture of Wm. McKinnley and Teddy Roosevelt (sepia)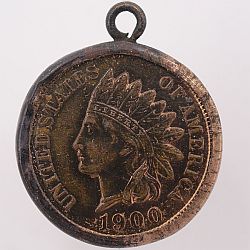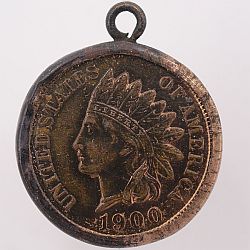 This side shows a 1900 Indian Head Cent.
(Hover for larger image)
Note: The following references were used on this page:
1 - Introduction to the 1901 Pan American Expo Series, James M. Lawniczak - An Introduction to the Pan-Am Series
2 - PANorAMa of the PAN=AM An Illustrated Guide to Souvenirs from THE PAN=AMERICAN EXPOSITION of 1901 in Buffalo, NY - complied by Frederick M. Lavin