Encased Coins Dot Info
---
Oddball/Unusual Encased
Worsted Cloth Encased Cent
Reverse showing the Indian Cent
Above is a very unusual encased Indian Cent. Instead of showing the obverse of the cent a multi color piece of cloth has been placed over the cent. The legend on the face of the encasement reads: USE STARLIGHT WORSTEDS. This is the only example of this encased that I have ever seen. It is 20 MM in diameter, the encasement just big enough to hold the cent. The obverse side also has a piece of clear plastic covering the cloth. I imagine that these were given out by traveling salesmen to advertise their product. I have had no success finding out about this company. Worsted is defined as a fine smooth yarn spun from combed long-staple wool (https://en.oxforddictionaries.com/definition/worsted).
The piece above is also a very unusual encased cent. The legend reads: TAYLOR HALL WELDING INC CORP. / WORCESTER, MASS on the obverse and WORCESTER-STAMPED METAL-CO The center of the reverse is raised the thickness of a cent (clearly demonstrating the stamping ability of the company) and contains the following legend: QUALITY STAMPINGS.
The piece is composed of two pieces of steel that have been stamped with the legends and to form the holder for the cent. The two pieces are then held together with two welds on the reverse. The cent is free floating with a raised rim on the obverse to keep the cent in the encasement. The encasement is 32 MM in diameter and 2 MM at the edge and 4 MM in thickness at the raised portion.
The two encased cents above are without a question odd or unusual. Which is of course why I like them! If you roam around this site you will find that there are many different styles and varieties of encased. These two are just the beginning.
What's New
Articles are listed newest to oldest complete list at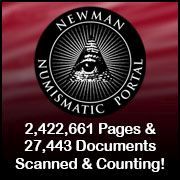 The Newman Numismatic Portal (NNP) has the largest online searchable collection of numismatic literature, periodicals and auction catalogs.