ENCASED COINS DOT INFO
---
Paperweights and Plastic Encased Coins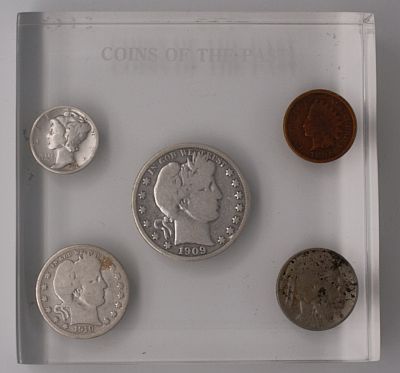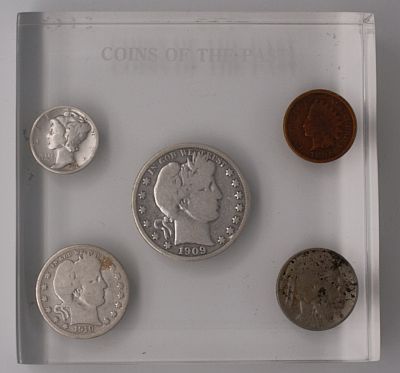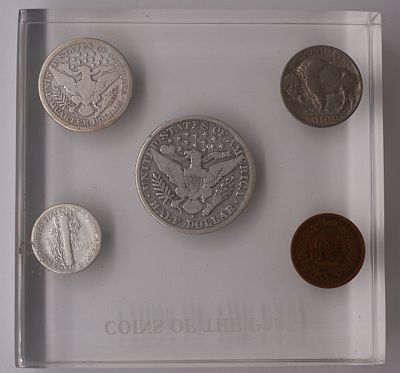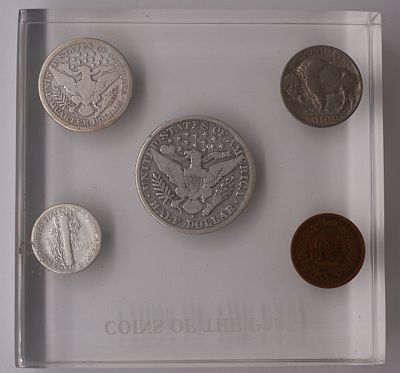 Paperweight with "Coins of the Past" - 1909 S Half, 1910 Quarter, 1936 S Dime, 1930 Nickel and 1896 Cent
3 1/2 inches square by 1 1/16 thick Lucite (Hover for larger image)
Are coin embedded in clear plastic "encased coins"? Good question! The answer in my opinion is yes, but they are not an "encased coin" in the traditional sense. They are not encased in aluminum as the "original" encased cents were. They are not "lucky pieces" or "Lucky Cents" which many of the "traditional" encased cents were. They do not have "Lucky" or "Good Luck" symbols on them. They do encase coins. They do frequently have advertising slogans or messages in them. They usually contain more than one coin, while a traditional encased coin is a single coin. So plastic paperweights have coins and they are encased which for my collecting purposed makes them "encased coins." They are a subset of encased that many encased collectors ignore or collect in a limited fashion. Coins embedd or encased in plastic are not always paperweights and they are not always embedd in "Lucite" or acrylic plastic. There are keychains with a coin encased in plastic either acrylic or another plastic. There are many souvenir pieces which are coins embeded in acrylic. Eventually I hope to organize this page by type of material and style. You will see homemade pieces as well as professional ones.
What is a Lucite or plastic paperweight? First Lucite® is a high-quality, trademarked version of acrylic resin developed by DuPont in 1937. Poly(methyl methacrylate), also known as acrylic, or acrylic glass, as well as by the trade names Crylux, Plexiglas, Acrylite, Astariglas, Lucite, Perclax, and Perspex, among several others, is a transparent thermoplastic often used in sheet form as a lightweight or shatter-resistant alternative to glass. (Wikipedia)
With the introduction of Lucite just prior to WWII it became a valuable material during the war. It was used for aircraft canopies, submarine periscope, and gun turrets. After WWII many civilian applications were found. Not the least of which was making paperweights.  It is a great material for embedding coins as it is very clear, easy to mold, and polish. It is also lighter in weight than glass and it doesn't shatter like glass. It breaks into dull chunks.
The process of embedding an object in clear plastic is straight forward and easy o accomplish. A form, frequently cardboard, is used to make the shape of the piece. The lucite or acrylic plastic is poured into the mold in layers. The first layer is poured just deep enough to embed the object (coin). Then layers of material are added to make the desired piece. When a piece has many coins embedded in it the coins are placed in layers and acrylic is added just to cover the coin. Then allowed to set. After that layer is set more acrylic is added and coins embedded. The process continues until the piece is finished. After curing for a period of time the mold is removed and the piece is polished.
Since the acrylic is poured into a mold the variety of shapes available is large. These pieces can be easily used for advertising by embedding a thin piece of plastic with a slogan or appropriate information on it. It can be poured in a multitude of sizes as well.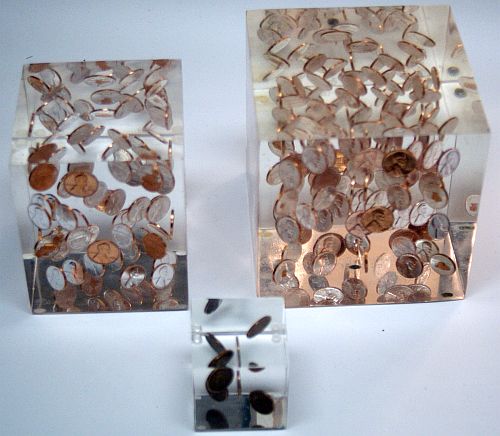 Three different size blocks of coins. The largest is a cube 4 7/8 inches on each side. It contains 100 1968 Lincoln cents in 4 layers. The middle one is a rectangular cuboid. 3 1/2 by 4 inches and contains 49 1971 Lincoln cents. The third is a cube 2 inches on a side with 5 Indian head cents. (2 - 1906s, a 1904, a 1900, and a dateless cent.)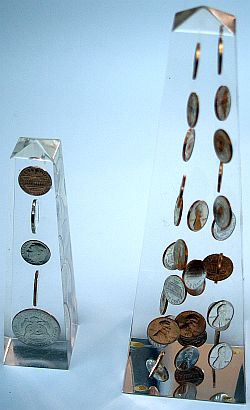 The two "Obelisks" are very different sizes. The larger is 9 inches tall and has a base 3 inches square at the base. It contains 29 1970 Lincoln cents. The smaller is 5 3/4 inches tall and 1 1/2 inches square at the base. It contains a 1977 half dollar, a 1972 quarter, a 1972 D dime, a 1973 D nickel, and a 1974 D cent.
The size of the larger blocks and the size of the taller oblisk are unusual. They are heavy. The middle size block is 2lbs 13.2 oz. The larger is 5lbs 12.6 oz and the small one is 5.6 oz. The taller oblisj is 1lb 13.9 oz and the samller is 7.6 oz. Going forward I won't list weight unless it is important to the piece.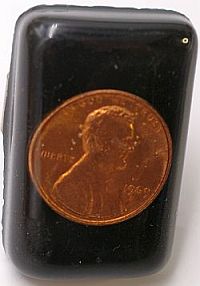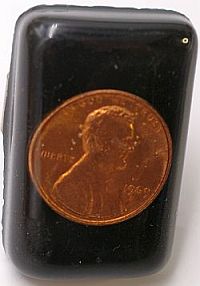 A homemade ring with a 1960 cent. The ring itself is copper which looks to be cut from a piece of household copper pipe. Note the unfinished edges. (Hover for larger image)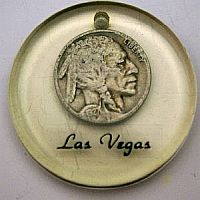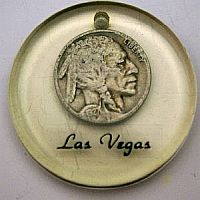 A 1927 buffalo nickel embedded in clear plastic with "Las Vegas" under it. Note hole at the top for a chain.(Hover for larger image)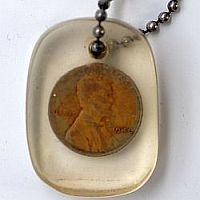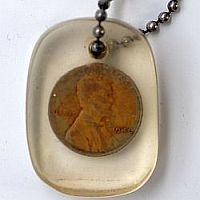 A 1940 cent embedded in plastic. note again a hole at the top for a chain. The cent is well worn. The plastic is 11/32 thick. (Hover for larger image)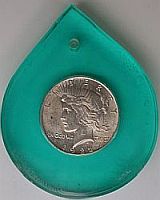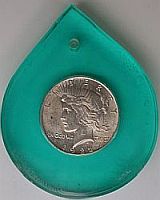 A 1922 silver dollar embedded in light green plastic. The shape is a teardrop and at the top has a hole for a chain. It is 3.8 oz in weight and 5/8 inches thick, 2 7/8 inches diameter and 3 1/2 inches point to base. A little large to carry in your pocket. (Hover for larger image)
Since we have keychains going I thought I'd show a few more. (Note: Images may appear on several different pages of the site as I illustrate varieties.) There are five different keychain style encased coins. Note that the 1927 nickel and the 1940 cent's plastic is yellowed. The First National Bank of Maywood is very clear as is the plastic on the "Wagon Wheel Saloon". The 1922 silver dollar is encased in green lucite.  Colors can be added to the unset acrylic to achieve various results. If the first layer is colored black with the later layers clear the piece will look like the ring example above. If a transparent color is added in small quantities and used for all layers then you get the green teardrop. The Maywood keychain shows an example of embedding a slogan on a thin piece of clear plastic and adding it after a layer of acrylic.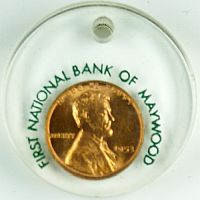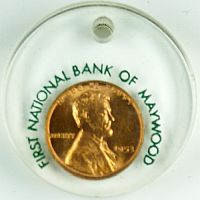 First National Bank of Maywood, 1953 full red cent with a hole for a chain. (Hover for larger image)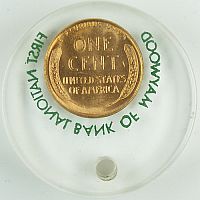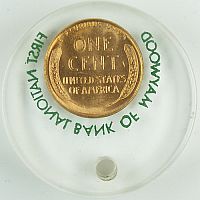 First National Bank of Maywood - reverse (Hover for larger image)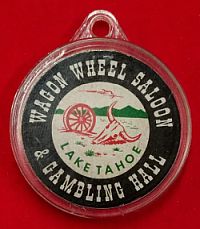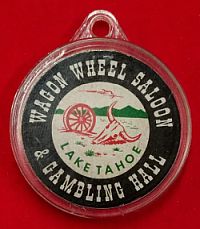 Wagon Wheel Saloon Morgan silver dollar. For complete information see (Wagon Wheel Saloon (Hover for larger image)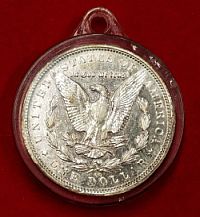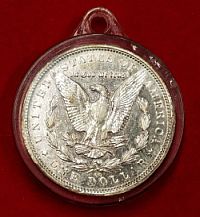 Reverse of Wagon Wheel Saloon keychain fob. (Hover for larger image)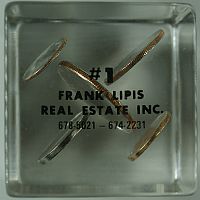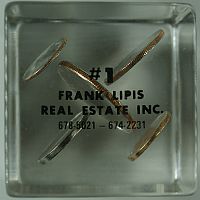 A top view of a 2-inch cube containing a 1976 half, 1973 quarter, 1967 dime, 1964 nickel, and a 1962 cent. "#1 / Frank Lipis / Real Estate, Inc. / 678-5021 -674-2231" (Hover for larger image)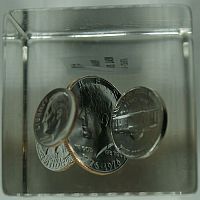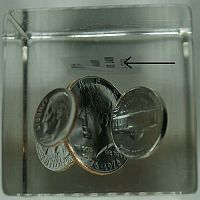 Side view of the Frank Lipis cube. If you look closely you can see the plastic insert with his business name and phone number. (Hover for larger image)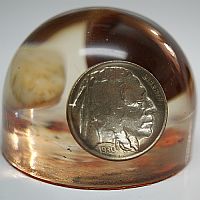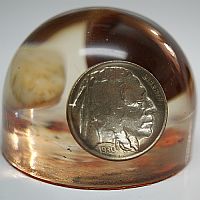 1930 S nickel. (Hover for larger image) This is a souvenir item and is interesting for the variety of items encased with the nickel. There is a "buckeye", the nickel, and a piece of gem flint as well as a label. (Hover for larger image)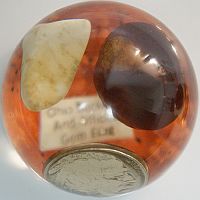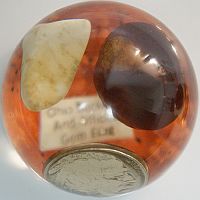 Here is a top view of the "Buckeye Souvenir" note the label at the bottom which lists the items embedded. There is also some orange glitter scattered at the bottom. (Hover for larger image)
475 Club - disk shaped paperweight - "475 Club Silver Anniversary" encased 1887 silver dollar is centered in the disk. (Hover for larger image)
Reverse of the 1887 "475 Club / Silver Anniversary" (Hover for larger image)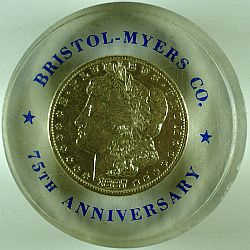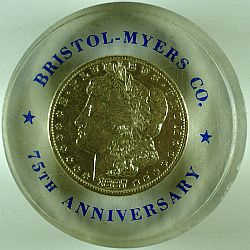 "Bristol - Myers Co. / 75th Anniversary" 1886 Morgan Silver Dollar (Hover for larger image)
"Bristol - Myers Co. / 75th Anniversary" 1886 Morgan Silver Dollar reverse (Hover for larger image)
Both of these "disks" appear to be made by the same company. This is based on the fact that tge font used appears to be the same. Further the blue used for the text is the same as well. Finally there are "stars" separating the two halves of the text (top/bottom) on both pieces that while different in size they are the same in style. Note that the Bristol - Myers disk is larger in diamerer and small in thickness, 2.5 diameter 15/16th inches in thickness vs 2 3/8ths by 1 1/8th thickness for the 475 Club. (Their size in images appear the same due to editing.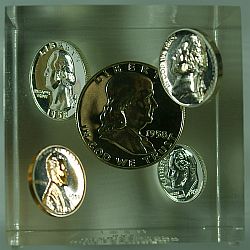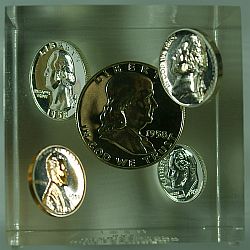 1958 Proof Set in acrylic 2 3/8 cube. "1958 THE CONTINENTAL NATIONAL BANK OF LINCOLN" - It was incorporated in 1958 so this was a memorial piece created for the opening?(Hover for larger image)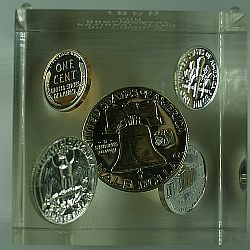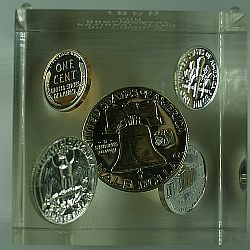 1958 Proof Set in acrylic 2 3/8 cube. This is the reverse of cube on the left. (Hover for larger image)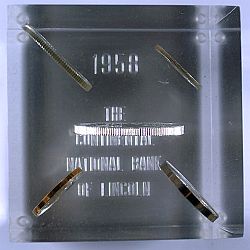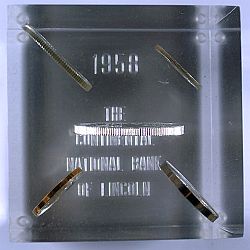 Top view of 1958 Proof Set in acrylic 2 3/8 cube. The point of this view is to show the slogan or legend on the bottom of the cube. Note the rather than being placed on a thi strip of plastic and embedded in the cube this inscriptionios engraved in the bottom of the plastic. (Hover for larger image)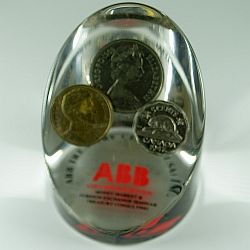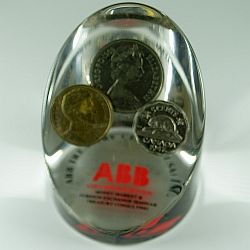 This is a cylinder that is cut at an angle to provide the view of the coins and legend. The coins are placed at an angle to the face for a good view. It contains a 1979 Chilean Peso, a 1947 Canadian niclel, and a 1969 New Pence from the UK. "ABB Asea Brown Boveri Money Market & Foreign Exchange Seminar Treasury Consulting" (Hover for larger image)
So above we have two pieces used as advertising as well as suovenirs. Not an uncommon practice. One of the main uses of any encased coin was as an advertising piece. After all who throws away money? When as in the case of the "1958 Continental Bank" paperweight not only are they coins, but valuable coins. Even in 1958 when the U.S. Mint sold them for $2.10 was cinsiderable value. Currently the cooins are worth in the neighborhood of $50 - $55 or more. Therefore not something to be discarded lightly and the advertising lives on as long as you keep the paperweight. If it is on your desk, it is on your mind as well! The ABB piece is a souvenir of a training seminar. Having the papereweight on your desk reminds you of the lessons learned at that seminar and ABB.
Embedded in clear acrylic is a very worn 1842 large cent. It is 1 3/4 inch n diameter and 3/8 inch thick. It is not holed nor does it contain advertising. (Hover for Reverse)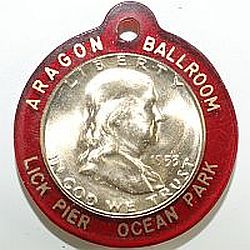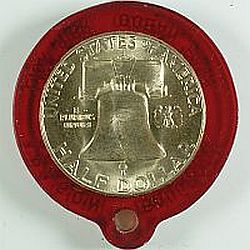 A 1953 Franklin half dollar is embedded in a red plastic ring. The coin is encased in clear plastic. The legend - "Aragon Ballroom / Lick Pier / Ocean Psrk" tells us where it came from. The Aragon Ballroom is where Lawrence Welk got his start. It has a hole at the top for chain. (Hover for Reverse)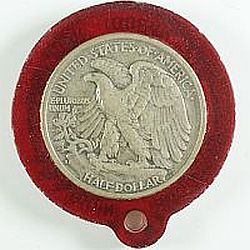 A 1939 Walking Liberty half dollar is embedded in a red plastic ring. The coin is encased in clear plastic. The legend - "Aragon Ballroom / Lick Pier / Ocean Psrk" tells us where it came from. The Aragon Ballroom is where Lawrence Welk got his start. It has a hole at the top for chain. (Hover for Reverse)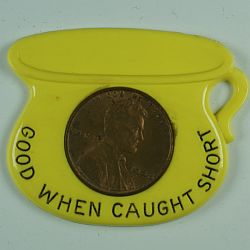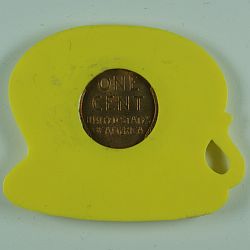 encased in yellow plastic is 1948 cent. "Good When Caught Short" follows the curve along the bottom of this chamber pot shaped piece. The reverse show a full red reverse, but no saying. The reverse of the cent is in better shape than the obverse as the reverse is inset and protectred from wear as opposed to the obverse which ic flush. (Hover for Reverse)
1922 Peace Dollar - Advertising "Jennie's Chicago" on Obverse and "Cutty Sark Scotch Whiskey" on reverse. Encased like a traditional encased coin, but using plastic as the encasement. (Hover for Reverse)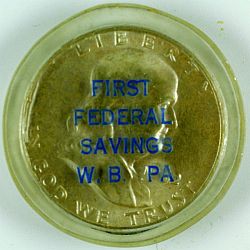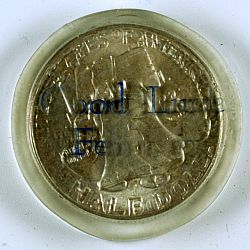 Embedded in clear acrylic plastic is a 1952 Franklin Half. The obverse reads: "First / Federal / Savings / W. B. PA." The information appears to have been stenciled on the plastic. Reverse reads: "Good Luck / Feb..." the end is worn away and unreadable. W. B. is Wilkes Barre, PA. The savings and loan has been acquired and sold numerous times. (Hover for Reverse)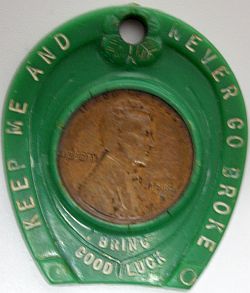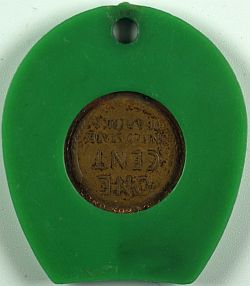 Encase in soft green horseshoe plastic is a 1953 D cent. Obverse reads: "Keep Me and Never Go Broke" "Keep Me aI Bring Good Luck". Reverse is blank. This has a hole for a chain.(Hover for Reverse)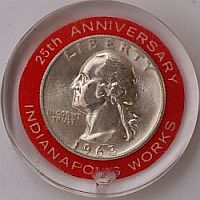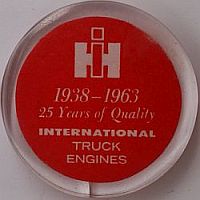 Encased in a clear acrylic plastic disk (3/8 inches thick and 1 1/2 inches diameter) is a 1963 Quarter. The obverse reads: "25th Anniversary / Indianapolis Works". The reverse reads: "193801963 / 25 Years of Quality / International / Truck / Engines" also the IH logo. (Hover for Reverse)