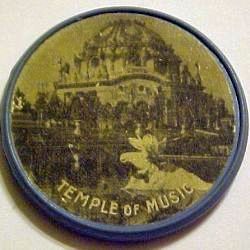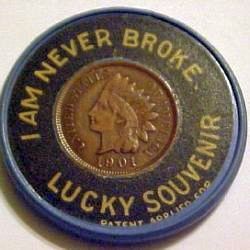 Vulcanite encased Pan Am Temple of Music 1901 Pan Am Exposition, Buffalo, NY
Article appeared previously in the ILNA Digest - Author B. Perdue
In my previous article, "Buying Coins on eBay" I discussed buying on ebay®. Now let us talk about selling on ebay®. There are a number of things you need to keep in mind when selling. Selling coins or any valuable object requires you to examine why you are a seller. Below are some reasons:
You are doing it as a business - to make money?
You are doing it as a collector?

To remove coins from your collection and attempt to recover your costs?
To sell off your coins and use the money for other pursuits?
To make money and explore if you can make a living selling coins?
The reasons are important to your approach to selling on ebay®. If your main goal is to make money, then focus on buying low and selling high. Only you know how much you can invest in coins to sell (inventory). Also remember that the value of anything is what the next buyer will pay.
Here is how I recommend you begin.
What 'category' do you want to list in?
Ebay has multiple categories where you can list your item for sale. As an example "Coins and Paper Money" is a top level category. Under that heading there are 13 next level categories. Each of these has numerous sub categories. You need to explore these to see where your item fits best. The experienced buyer will know which category to look at for their particular collecting specialty. Take time to browse the categories and learn where certain numismatic items are usually posted. You should note overlapping categories where you may want to your item to obtain the widest exposure to all buyers. Additional listing categories will cost you a small fee over one category.
Do you want to list the coin in multiple categories?
What style sale will it be? ebay® offers several different types of listings. "Auctions" style where you choose a starting price and buyers can then bid on your item. "Buy it Now" where you set a price and the buyer can just purchase the item for a set price. These two can be combined into an "Auction" with a "Buy it Now" option. You can even add a "Make an Offer" to the "Buy it Now". Choose the style you like and is successful for you. You also have the option with the "Auction" style to set a reserve price. I am not a fan of this type of listing as it tells me you are afraid of the possibility you may sell the item for less than you want. As a buyer I'd rather you listed the item with a "Buy it Now" price.

Auction?

Add "Buy it Now"?
Add "Buy it Now", and the "Make an Offer"?
Add a reserve price?

Buy it Now?

Add "Make an Offer"?

If you have been a buyer on ebay® then you are aware of the various categories. If not, then take some time and look at all of the coin related categories. Let's examine the categories for numismatics. Under the top level category of "Coins and Paper Money", you have:

Ancient Coins
Bullion
Canadian Coins
Coin & Paper Money Publications and Supplies
Exonumia
Other Coins and Paper Money
Stocks and Bonds
US Coins
US Paper Money
Virtual Currency, Miners & Mining Contracts
World Coins
World Paper Money

There are then sub categories below these.

Search for coins or items similar to those you wish to sell. Look at the type of listing. Is it for an auction or a buy it now? Make notes to yourself of the beginning prices for auctions for similar coins. Make a watch list and see how the coins are selling and how the prices work out. Ask yourself, "Does an auction starting at 99 cents achieve the results that are reasonable for a listing?" How did "Buy it Now" sales work versus "Auction?" Watch all of the options and decide what works best for you and what returns the best dollars.

Now having decided where to list and how to list, decide on shipping. You may charge whatever you like for shipping and handling. ebay® would like you to offer "Fast and Free" shipping. To do that you need to realize the cost of shipping in the sale price. This can best be done with a "Buy it Now" listing. With auction type listings you should figure out what it will cost you to ship the item. A good digital postal/kitchen scale is needed. I recommend using tracking. This protects you from those buyers who claim to have not received their purchase. As a buyer I like having my purchases tracked. As I seller I insist on tracking. I recommend you figure that into your calculations. Review what you learned while looking/watching other "sellers" listings. If the majority of sellers are charging $1.99 to ship then you better be close to that number. If you have a reason to charge more explain it in your listing. Keep in mind that you can print a shipping label on ebay® and save on your postage. That requires you to have the correct label and set up your printer to use the label.

Now you need a good image of your coin to post on ebay®. You can post up to 12 images for free with a listing. Again, refer to you notes about the categories and sellers you watched. In my experience those with the best images of their coins make the most sales and get the best prices for their coins. Learn to take a good close up of a coin. Learn how to edit your images. It isn't hard. I have used a free image editor called Irfanview for years. It allows you to crop, resize and otherwise manipulate your images. I frequently shudder when looking at images on ebay® that show someone holding the coin in their hand or with a poor background. A plain sheet of printer paper makes an excellent background. Make the image fit the complete space allowed. ebay® requires that your image be no smaller than 500 pixels. They recommend 1000 pixels size. ebay® standards allows a maximum image size not to exceed 12 megabytes. I seldom view listings where the picture is tiny, poorly taken or is unappealing. The images are what sells your coins. If there are defects, show them clearly so that the buyer does not have a reason to return the coin. Show as separate images both sides of the coin and close ups of important parts of the coin. If certified a close up of both sides of the certification helps your buyer decide. Save your image in the correct format. ebay® accepts JPEG, PNG, TIFF, BMP, and GIF. I recommend that you only use JPEGs or PNG images. BMP's are very large. GIF's images are usually used for animated images. TIFF images are usually larger than JPEGs and PNGs, but they are a slightly better resolution image used by professionals. If you can keep the size under 12 megabytes then TIFF is the best choice. I prefer JPEGs as they work well for me.

When describing your coin keep it simple. Avoid using "rare" or "one of a kind" with your listing. Seldom does this sell your coin for a better price unless it is true. Look over what others have done in making disclaimers. The image is your best selling point. Let the coin speak for you. Put in your terms. Again, look what has been done by others and pick out what best fits you. Remember that buyers will rate you. 100% positive ratings help you sell your coins.