---
Wisconsin Centennial Encased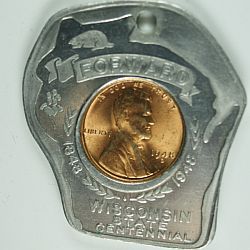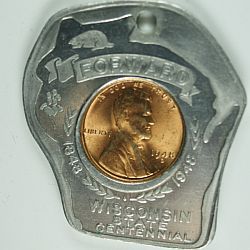 1948 D Wisconsin shaped encased cent. Obverse reads: In a scroll at the top "FORWARD". At the bottom "WISCONSIN / STATE CENTENNIAL. A badger and a "wood violet" are depicted at the top left. Around the cent is "1848" on left and "1948" on the right. (Hover for larger image)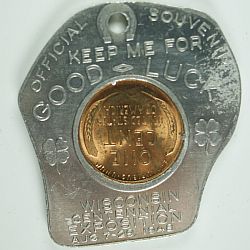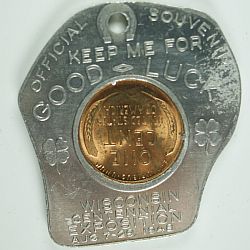 Reverse of the Wisconsin shaped encased cent. Reverse reads: At top "OFFICIAL SOUVENIR" "KEEP ME FOR GOOD LUCK" then ON EACH SIDE OF THE COIN ARE FOUR LEAF CLOVERS. at the bottom "WISCONSIN / CENTENNIAL / EXPOSITION / AUG. 7-29, 1948" (Hover for larger image)
Wisconsin Centennial
Wisconsin joined the union in 1848 as the thirtieth statute. In 1948 they celebrated their centennial in the state capital of Madison. Statehood day was observed on May 29, 1948 in Madison and across Wisconsin. The "Centennial Expo" was held in Madison from August 7 until August 29, 1948. During the centennial celebration over 1.5 million people visited the venue. At that venue you could purchase souvenirs. One of those souvenirs is displayed above. There are two different Wisconsin shaped encased coins. The Cent above and a dime below.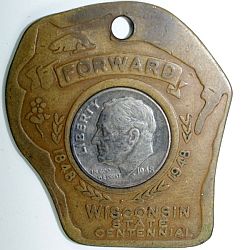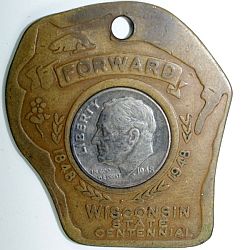 1948 D Wisconsin shaped encased dime. Obverse reads: In a scroll at the top "FORWARD". At the bottom "WISCONSIN / STATE CENTENNIAL. A badger and a "wood violet" are depicted at the top left. Around the dime "1848" on left and "1948" on the right. (Hover for larger image)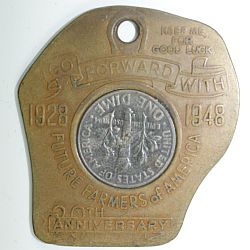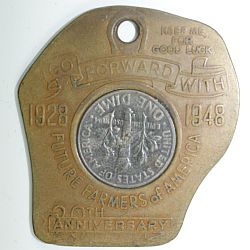 Reverse of the Wisconsin shaped encased dime. Reverse reads: In a scroll "GO FORWARD WITH" then under the dime "FUTURE FARMERS OF AMERICA" - To the left of the dime is 1928 on the right 1948 - at the bottom id 20th (in large font) under a ribbon with "ANNIVERSARY" - on the upper right in small font is "KEEP ME FOR GOOD LUCK" (Hover for larger image)
The encased cent at the top is clearly the "official" souvenir for the exposition. It has a traditional aluminum encasement. The second with the dime was made for the "Future Farmers of America" and has a brass encasement. The "badger" on the obverse is the state animal and the "blue violet" is the state flower. Note that the state outline is not just the shape of the encasement, it is stamped on the encasements obverse.