---
Red Lodge B.A. Harlen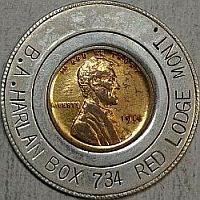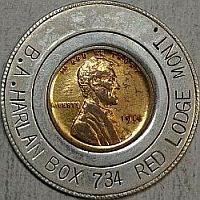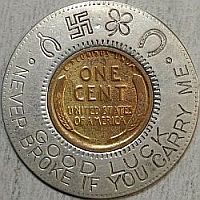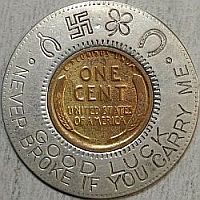 B.A. Harlan Box 734 1924 Red Lodge Mont.
Images Courtesy of TIPSCO Coins LLC
(Hover for larger image)
I ran across this piece on eBay. This is the description of the B.A. Harlan, Red Lodge, Montana encased 1914 cent. Below is the seller's description.
Encased 1914 Lincoln Cent, which appears to be a personalized "Good Luck" piece. 36mm steel encasement, with "B. A. Harlan, Box 734, Red Lodge, Mont(ana)" punched into the outer rim area. The lettering appears to be either done by hand, or one of the various machines that you could put money into and get a personalized souvenir out of. The Cent itself appears to have been circulated before being placed into the encasement - that and the lettering and Good Luck symbols suggests this is from the 1930's. I was not able to trace much, however the name "B. A. Harlan" does appear in online searches for Red Lodge, and he may have been involved with one of the Miner's Unions in town or possibly connected to one of the town newspapers. Either way someone who could be traced down with some effort, very unusual when it comes to items of a personalized nature. That and the use of a steel encasement, rather than Aluminum, makes this a more unusual and very cool item.
The encased cent was offered by TIPSCO Coin LLC and the above images and description are with their kind permission. I did buy it.
In looking over this piece I agree with the seller that the stamping was hand done. I think that the reverse is better executed, but not as deep as the obverse. The seller posits that this is a 1930's piece. I think that with the 1914 cent it could be earlier. The swastika as a good luck symbol has been used by Hindus, Buddhists and Jains for millennia and is commonly assumed to be an East Indian symbol. It was adopted as a good luck symbol and used by diverse groups up until the National Socialist German Workers' Party (Nazi's) began using it as their symbol. The swastika definitely fell out of favor in USA during the 1930's. That is part of why I believe this was made pre 1930. The other reason is the condition of the cent. The cent while circulated is still appears red. The wear looks to be from the piece being carried in a pocket. The intriguing use of a steel encasement is what makes this unusual. There are a few others steel encasements known. Perhaps the best known in my experience is the encased large cent below. With the Muller encasement it is professionally made.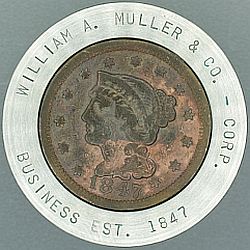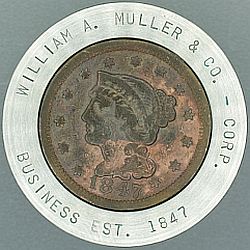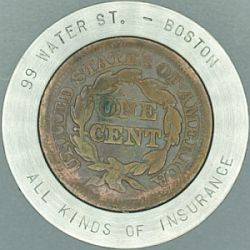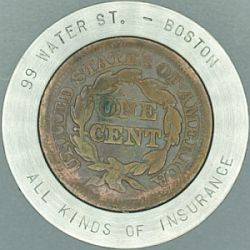 1847 Large Cent encased in stainless steel. Legend on obverse "William Muller & Co. - Corp. / Business Est. 1847" - Legend on reverse - "99 Water St. Boston / All Kinds of Insurance"
(Hover for larger image)
Another encased with a steel encasement is seen below. More details are available in an article about is this piece from Worcester, MA. This was made to advertise the companies stamping abilities. The article can be read Here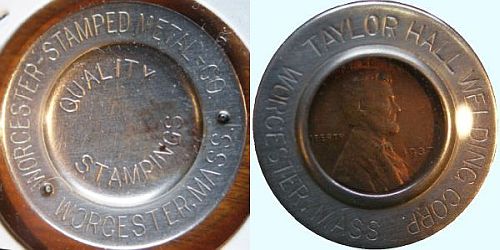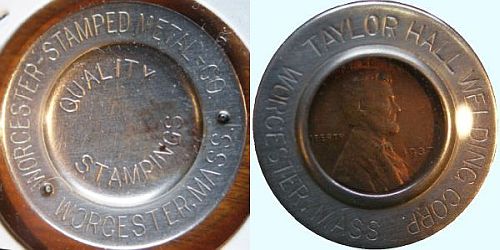 Taylor Hall Steel Encased with two stamped pieces holding the coin instead of aluminum encasement.
(Hover for larger image)